Executives of the airline SkyHigh Dominicana put into operation the flight services from the State of Rhode Island to the International Airport of the Americas (José Francisco Peña Gómez), scheduled to begin on May 15, 2023.
In a meeting with representatives of the media, government authorities and personalities of the social, economic and tourist life, the representatives of the airline company guaranteed to offer a good service in their flights with a purely Dominican staff.
Cesarina Beauchamp, commercial director of SkyHigh Dominicana, in statements to HOY, said that the company has focused its efforts on facilitating the access of the Dominican community in different destinations, and this time presents a direct flight route between Providence and Santo Domingo, with boarding from the Rhode Island airport (T. F. Green International Airport) that will connect with the Las Americas International Airport.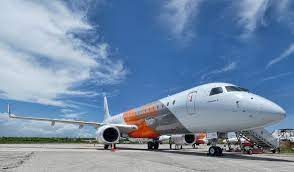 "With this new first-time flight initiative from Rhode Island, SkyHigh Dominicana also facilitates access to and from the Dominican Republic for residents in the cities of Boston, Providence, Lawrence and other nearby airport gateways," said Beaucham.
Beaucham said that the new route, due to its excellent geographical location and connectivity facilities, the Dominican Republic is the "Hub of the Caribbean" and SkyHigh as an expert airline in the operation from that hub, offers great advantages to its customers, thanks to the opportunity of multi-destinations, which makes it the ideal ally when traveling.
He said that unlike other airlines, SkyHigh will offer flight facilities without paying for luggage, especially without the inconveniences that Dominicans face when they have to travel from Rhode Island for more than an hour to catch a flight at the Boston Massachusett airport, without knowing when they will arrive at their destination.
"Initially we will have three weekly flights (Monday, Wednesday and Friday); however, they can now make inquiries, reservations and purchase tickets through the main agencies in the area, virtual travel agencies and on our website SkyHighDO.com," said Beauchamp.
He indicated that flights on SkyHigh Dominicana can be booked through 13 direct sales offices distributed in the destinations operated by the airline, as well as via the website, more than 100 thousand travel agencies and others worldwide.
Source: Hoy.com
Learn more: TRAVEL