To look gorgeous for Christmas and new year
The parties during the year are always the occasion to become a princess for one night, to use new make-up and to emphasize our feminine assets.
The end of year celebrations are great to party and to embellish ourselves, to innovate and to try very different makeups. These are some trends to give you some ideas, either you want to reproduce it completely or partially.
Coloured makeup
This makeup is great for funny and sparkling women, and can be very original and nice at the same time… it will attract everyone looks. This kind of make-up is mostly aimed to black skins on which a drab make-up go unnoticed.
For the eyelashes, use a colored makeup, to emphasize the look. Electric blue, green or purple mascara looks great for a sophisticated and mysterious makeup. For eye shadow, enjoy your skin color which enables you to use sharp colors (pink, orange), sequinned, pearly or golf…
For the lips, don't use gloss if your skin is black. If the eyes are already colored, a natural color will be the best.On the opposite, if the eyes are not much colored, concentrate the color on lips, with red, purple, fuchsia, plum etc…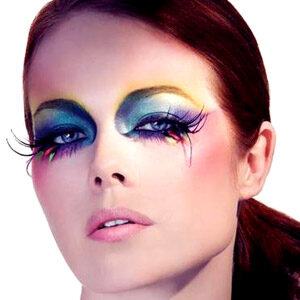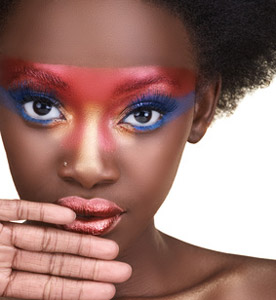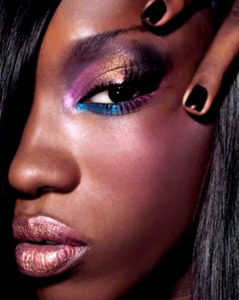 Romantic Makeup
This type of makeup is for gentle, dreamer, and quite women, who want to highlight their natural beauty for celebrations.
Porcelain complexion, pink cheeks and iridescent eyes are the main tendencies of this magic and delicate make-up.
The complexion is the base of this makeup. So we chose a luminous make-up base, a delicate powder with cream color, for a flawless skin. This doesn't mean we will not use colors. To refresh the complexion and create a velvet effect, you can use apricot and coral pink colors.
For the eyes, chose sky blue, water green, turquoise blue of a delicate and pastel pink eye-shadow. Sequins will look great, delicately poured on eyelid, transforming your eyes for a magic and sparkling look, perfect for celebrations.
Use mascara also, and false eyelashes if you like it for a very attractive look. For the mouth, the gloss is the best option, but you can also use an apricot lipstick.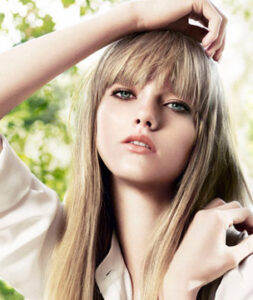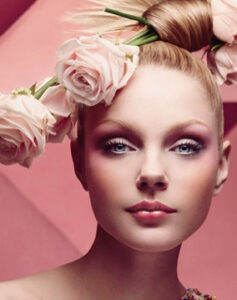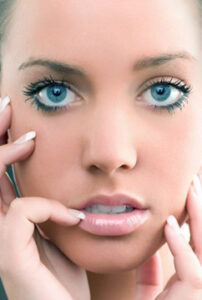 Gold makeup
Christmas is the only moment of the year where gold color can be used as you like, even on face… So enjoy this opportunity and become a princess of one night, in a sober or showy way.
Complexion is as often the central point of this makeup. So we apply on a flawless skin a makeup basis with luminous, blond, honey colors.
On the eyelid, apply a stronger color, and use golden sequins, in a dared or delicate ways, as you prefer it, and depending the way you want to look. Red, pink, purple, green, blue, brown, black, orange, yellow combine with gold.
For the lips, if you applied much makeup on eyes, choose a sober color, but always in hot and copper shades. Gold and light, a sophisticated and elegant makeup.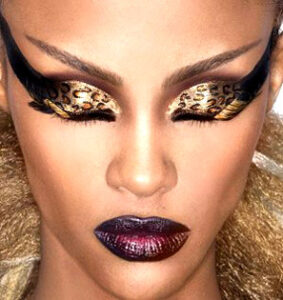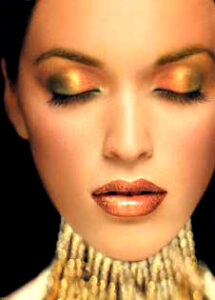 Sophisticated makeup
If you don't want to become a princess (because you're a princess all year) you can use a stronger makeup, for a look of fatal woman. This kind of makeup is mostly for white skins, so the complexion has to be smooth and fair.
The look is deep and mysterious: The smoky eyes is back. Protect your under eyelid in order to keep a bit of luminosity. Black is the main color, apply it on the upper eyelid and create shaded tones.
With this makeup, you can use false eyelashes, or a great mascara to make long long lashes. Concerning the lips, intense red is the one. Or fuchsia if you want… Lips are the most important part of this makeup.