Víctor Ito Bisonó, praised the work and commitment of Anadegas during Covid-19.
The president of the National Association of Gasoline Retailers (Anadegas) and new general director of the CLAEC, Juan Matos valued the "transcendental" function that this entity has been carrying out in times of crisis and, at the same time, the "great support" that the President of the Republic, Luis Abinader, has given to this sector.
Matos expressed himself in these terms on the first day of the 60th Summit of the Latin American Commission of Fuel Entrepreneurs (CLAEC), which was attended by 140 international delegates representing 12 countries.
In delivering the keynote address at the event, Matos stressed that: "it is good to see Anadegas supporting itself, this is the greatest achievement and shows our strengthening as an institution". It should be noted that the CLAEC conference has been held in various Latin American countries, with many successes, in this one, specifically, there have been good decisions for the sector and fuel entrepreneurs, and that is due to the great support of our president Luis Abinader, whom we thank infinitely," he said.
Matos thanked the presence of countries such as Argentina, Uruguay, Honduras, El Salvador, Brazil, Mexico, Costa Rica, Peru, Guatemala, present in this activity.
Victor Ito Bisonó, Minister of Industry, Commerce and MiPymes, highlighted the performance of Anadegas during the Covid-19 pandemic, a role that helped the Dominican nation to keep the industries working. As well as its positive response in the subsidy plan.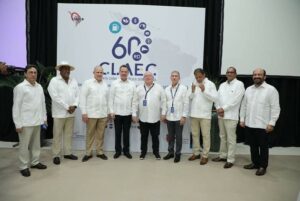 "We are pleased to serve as a stage for an event as important as this, the CLAEC is no longer a commitment of Anadegas, but of the Dominican Republic," he said.
On his side, Daniel Sanguinetti, outgoing president of that entity, said that through the different realities that each fuel businessman lives, high quality information is created that becomes a great contribution to the authorities of each nation, at the time of making decisions.
"We commercialize fuel so that our economy prospers and our countries advance", he ratified.
This commission will be exhausting a work agenda that will deal with the profitability of the fuel business through its regulatory framework, the influence of electric mobility and how it affects the business, as well as credit card charges and the way in which they affect its profitability.
On this first day of the agenda, several personalities were present: the secretary of this organization, Daniel Añon; the former president of the Senate, Andrés Bautista, representing the president, Luis Abinader, among others.
The 60th Summit of the Latin American Commission of Fuel Entrepreneurs (CLAEC) will be held until the 29th of this month at the Serenade Hotel in Punta Cana.
Source: Eldinero.com.do
Learn More: COMMERCE