Over the past few years, the Dominican Republic has established itself as a favorite destination for travelers thanks to its great natural beauty and the Samana Peninsula is characterized as a stunning paradise of majestic waterfalls of crystal clear waters, pristine beaches, mountainous hills lined with coconut groves and an infusion of rich culture and history.
This destination is an ideal natural gem for travelers seeking adventure, nature and romance in one place, as Samana boasts magnificent beaches of soft sand and turquoise waters.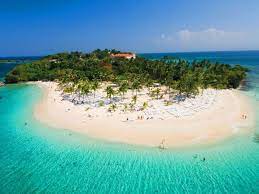 1. Humpback Whale Watching
Between January and March each year, Samaná Bay is a sanctuary for more than 1,500 humpback whales that mate and breed in the warm waters of the Dominican Republic.
During a boat ride you can appreciate and observe these beautiful animals frolicking in the distance, or if you prefer you can also see them from land, at the Whale Observatory in Punta Balandra.
2. Adventure at Salto El limón waterfall
Considered one of the most spectacular waterfalls in the Dominican Republic. This destination captivates as the water falls from more than 50 meters high into a natural pool.
Note that the waterfall is accessible on foot, however, the best way to get there is on horseback as you ride through the lush vegetation.
3. Zipline excursions
For the more adventurous, Samaná offers a new entertainment option in Juana Vicente, a destination located a few minutes from Samaná Bay, where visitors can experience the thrill of flying over palm trees and green valleys, while observing spectacular views of Cayo Levantado and Samaná Bay.
Beaches to visit in Samana, Dominican Republic
Rincon Beach.
Las Galeras.
Las Terrenas.
Bonita Beach.
Cosón.
Cayo Levantado.
Las Ballenas.
Portillo.
El Limon.
Moron Beach.
Source: argentina.viajando.travel
Learn more: DESTINATIONS