Punta Cana captivates tourists from all over the world for its beautiful beaches characterized by crystal clear waters and white sand. In addition, you can enjoy various water activities such as kayaking, windsurfing or diving through spectacular reefs. Are you planning a trip to this Caribbean paradise? In this article, we tell you the months where the sun is at its best and the weather is perfect.
It is worth mentioning that in 2022, the Dominican Republic received more than 7 million tourists, which was a record number of visits. These figures were revealed by the Minister of Tourism, David Collado.
When is the best time to travel to Punta Cana?
Punta Cana's climate is characterized by being warm and cool. From January to December, the temperature of the Caribbean country ranges between 27 and 31°C. In winter, the temperature can range from 23 to 25°C.
Tourists from all over the world come to Punta Cana to enjoy its beaches, which are about 32 kilometers long. If you are planning to travel to this paradise, the high season runs from October to March, the low season lasts from April to September, and the middle season covers the months of October to February.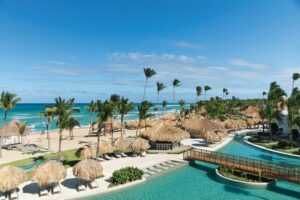 Travel to Punta Cana is synonymous with sun, beach and sand, so tourists seek at all costs to enjoy the sun at its best and a clear sky. The best time to travel to Punta Cana is between December and April. Why? Because during these months there is less chance of rain.
What to do in Punta Cana?
Some of the best beaches in this Caribbean paradise are Bávaro, Macao, El Cortecito and Cabeza de Toro. These stand out for their crystal-clear waters, white sand and being surrounded by reefs. It is the perfect destination if you go with your family or as a couple, since you can enjoy various water activities such as windsurfing, kayaking or diving.
You can visit the famous Saona Island, famous for its coral reefs and mangroves or the Parque Nacional del Este, a protected natural reserve where you can observe marine flora and fauna. Also, go hiking in the Ojos Indígenas Ecological Park where there is a lot of vegetation and lagoons perfect for a dip.
Source: elcomercio.pe
Learn More: DESTINATIONS