The Minister of Foreign Affairs, Roberto Álvarez, will head the delegation of the Dominican Republic that will participate in the 52nd General Assembly of the Organization of American States (OAS), to be held from 5 to 7 November in the city of Lima, Peru, under the slogan "Together against inequality and discrimination".
The topics that the Foreign Minister will bring on behalf of President Luis Abinader to this conclave are related to the situation in Haiti and other points concerning freedom of expression and journalism, as well as open and transparent digital government.
Among other topics of debate that will be addressed are: the strengthening of democracy, the rights of persons with disabilities and senior citizens, the Inter-American Cadastre Network led by the Dominican Judicial Branch, the protection of the environment and the legal implications on territorial sovereignty caused by the rise in sea level due to the warming of the oceans.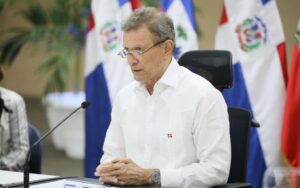 On the sidelines of the OAS General Assembly, the Foreign Minister has on his agenda several bilateral meetings with some of his counterparts in the region and a meeting of foreign ministers of the member countries of the Central American Integration System (SICA), an organization of which the country holds the pro tempore presidency.
Minister Alvarez will be accompanied by the Vice Minister of Multilateral Foreign Policy, Ruben Silié; the Permanent Representative Ambassador of the Dominican Republic to the OAS, Josué Fiallo; the Dominican Ambassador to Peru, Alejandro Arias; the Director of International Organizations of MIREX, María Fernanda Ortega; the minister counselor of the diplomatic mission to the OAS, Erika Álvarez; the Dominican candidate to the Inter-American Juridical Committee, Julio José Rojas Báez, and the minister counselors of the Dominican Embassy in Peru, Eymi Jiménez and Luis Fernández.
Learn More: EVENTS