The ladies have already been summoned and examined previously.
The General Directorate of the National Police informed that the evaluation process will continue for young people interested in joining the Central Directorate of the Tourist Police (Politur).
On this occasion, according to the call, only male personnel will be evaluated, since women have already been summoned and examined previously.
Documents required
The documents required for admission will be received from Monday to Friday from 8:00 a.m. to 4:00 p.m. at the School of Tourist Security, located within the facilities of the Directorate of Training and Training of the Army of the Dominican Republic, located in San Isidro, Santo Domingo East municipality.
Requirements and documentation
The young people interested in being part of the Politur family, must be Dominican citizens in full enjoyment of their civil and political rights; be a high school graduate; be in full physical and mental capacity, according to the medical examination practiced by the doctors of the National Police.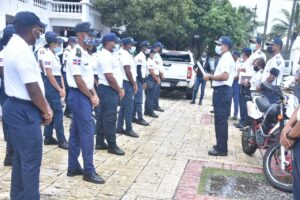 Also be of good moral character and present a certificate of No Criminal Record, issued by the Attorney General of the Republic; have a height of at least five feet and five inches (5'5), as well as a weight and body mass in accordance with their sex, age and height.
Likewise, they must be between 18 and 24 years of age, and must not have been convicted or be sub judice for a criminal cause or crime, nor have been excluded from any other public service for the commission of any serious or very serious offense.
Applicants must submit their high school diploma, seven copies of their identity and voter's cards, as well as four 2×2 photos (two front and two profile). After receiving the documents, and once there is a considerable number of applicants, calls will be made to take the exams.
Learn More: NEWS