As part of the agenda of the Dominican Republic Economic Tour that concludes this Wednesday, the Minister of Economy, Dr. Janio Rosales, held a meeting with the Vice Minister of Economic Affairs and International Cooperation of the Dominican Republic, Hugo Rivera, where they discussed current global challenges, economic prospects and opportunities to attract investment to generate greater opportunities for trade.
During the meeting, both ministers expressed their commitment to promote commercial, political and cultural exchange, as well as to continue collaborating to strengthen the historical ties of friendship between both nations.
During the meeting, the progress of bilateral relations was also evaluated and a work agenda was drawn up in the areas defined as priorities for both countries, such as the exchange of best practices in tourism and trade and investment, among other topics.
The meeting was also attended by the Chancellor of Guatemala, Mario Búcaro and that of the Dominican Republic, Roberto Álvarez; as well as other Dominican officials and diplomats such as the ambassador of the Dominican Republic in Guatemala, Sara Paulino; the director of Relations with Latin America, Denisse Cabral; the director of Trade and Investment Promotion, Belkis Yermenos; and the counselor in charge of the Dominican Commercial Section in Guatemala, Alfredo Castro.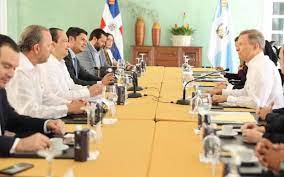 Separately, Minister Rosales participated in Santo Domingo in the meeting organized by the Special Fund for Agricultural Development (FEDA) on the occasion of the "Week of Guatemala in the Dominican Republic", where the signing of an agreement between the DR Chamber of Commerce Center and the Chamber of Industry of Guatemala (CIG) was announced.
As indicated, the agreement, which will be signed next Wednesday, at the conclusion of the Economic Tour of the Dominican Republic in which a group of 10 Guatemalan companies are participating, seeks to strengthen trade relations between the two countries and maximize business and investment opportunities.
Among the last items on the agenda and to close the tour, the members of the Guatemalan mission visited the Multimodal Port of Caucedo and the Free Trade Zone of the same name, both located approximately 25 kilometers from Santo Domingo.
Source: Prensa.gob.gt
Learn More: ECONOMY