The Dominican Republic and Poland signed a memorandum of understanding in the natural resources sector between the National Geological Service (SGN) and the Polish Geological Institute, which will define cooperation, research and project financing.
The document was signed by Mr. Edwin García Cocco, Director of the SGN, and Mr. Mateusz Damrat, Director of the Polish Geological Institute, who explained the scope of the five-year agreement.
On the other hand, during a visit to the Minister of Energy and Mines, Antonio Almonte, the Undersecretary of State, national geologist and government representative for raw materials policies of the Ministry of Climate and Environment of Poland, Mr. Piotr Dziadzio, said that his country is extremely interested in cooperating with the country in the areas of mining and development of renewable energies, not only wind and solar, but also in geothermal energy, which is obtained through the heat coming from the interior of the Earth.
He said that Poland has a great deal of experience in low and high temperature geothermal energy that can be used to produce long-lasting electrical energy.
Geothermal energy is a renewable source of continuous production, 24 hours a day, 365 days a year. It is a stable energy, as it does not depend on the fluctuations of the wind or the sun. Geothermal installations have a low visual impact and do not generate emissions.
The Polish official said that Poland has advanced equipment to monitor geothermal processes and that his country has one of the largest plants in Europe.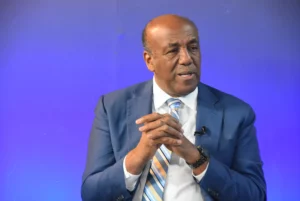 He indicated that Poland is also interested in expanding the collaborations that began in 1990 to other areas as a way of contributing to the country's development.
He expressed that with the high level of technology reached, they can help mining in the Dominican Republic to obtain better levels of security in extraction and guarantee the natural resources for the benefit of future generations.
Minister Almonte thanked the willingness of Poland, from whom he said that the country has much to learn from its relationship with the mining activity.
"The Government and the Dominican people are honored to have them here", said Almonte and recalled that the support offered by that country has been coordinated through the Universidad Tecnológica del Cibao Central (UTECO).
The Polish delegation also included Mr. Michal Nowosielski, in charge of the Raw Materials Policy Division of the Polish Ministry of Climate and Environment. Representing the country were Rolando Muñoz, Director of Mining; Miguel Peña, mining advisor to the Executive Branch; Mauricio Hernández, Director of Technical Management, and Carolina Sánchez, from the MEM's International Relations Department.
Learn More: NEWS