The Dominican Republic continues to break records with the arrival of tourists and according to projections, the month of November will be one of the best in this sector, due to the arrival of more than 570 thousand tourists to the country, according to the Minister of Tourism, David Collado.
The official indicated that the month of December is shaping up to be the month that will register the highest arrival of tourists to the country, which will exceed 7 million tourists in the whole year 2022.
In this regard, he said that the Dominican Republic has recovered Canadian tourists in its entirety, a market that was less responsive to the recovery, but that in November the arrival of Canadians will exceed by 108% the tourists who arrived in the same month of 2019.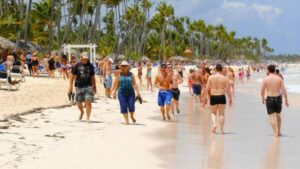 He assured that Dominican tourism is recovered, thanks to the efforts of the authorities.
Collado issued these statements during his participation in the XVIII edition of the Epifanio Lantigua 2022 National Tourism Journalism Award.
It is recalled that the country had a record by receiving 735,064 non-resident visitors in the month of July, making it the month of highest tourist arrivals in the history of the Dominican Republic by surpassing December 2021, as reported Monday by Minister David Collado.
Meanwhile, with this new achievement is projected to close the year beating for the first time in history the figure of more than 7 million tourists and said that this arrival of non-resident visitors of July 2022 represents 10% more than July 2018, 24% above July 2019 and 30% above the same month of 2021.
Learn More: TOURISM