This activity is considered one of the most important for the free zone sector and brings together more than 1,000 delegates in the city of Dubai.
The Minister of Industry, Commerce and Mipymes, Víctor 'Ito' Bisonó, participated this Tuesday as a speaker in the 2023 edition of the International Conference and Exhibition that the World Free Zones Organization organizes every year and that in this edition gathers for three days businessmen, investors and world leaders of this sector.
In this forum, Bisonó presented the achievements in terms of investment, exports and new jobs as part of the relaunching of the free zones led by President Luis Abinader in the Dominican Republic.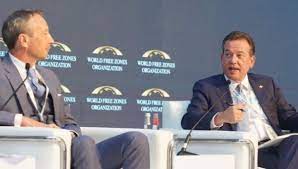 Bisonó participated together with Mohammed Alzarooni, Chairman of the World Free Zones Organization, in this 9th International Conference and Exhibition called "Global Trade 2.0: Zones, an ecosystem of trust driving prosperity", from where he expressed that confidence in the government of President Abinader has had an impact on the levels of efficiency and competitiveness that free zones continue to exhibit.
"We are a clear example of how confidence has an impact and generates successful zones. The Dominican Republic is considered one of the pioneer countries worldwide in the successful implementation of the free zone model," said the minister.
More trade and investment
He also stressed that trade and investment are essential to generate prosperity for all and free zones are playing a fundamental role in the world to achieve that welfare. He reiterated that the government designed and implemented a plan. "We put in place deliberate strategies, committed parties, efficient processes, transparent mechanisms and investor protection tools," he told the conference.
During his panel he emphasized that they have managed to establish a great public-private partnership, where the relationships and the ecosystem of mutual trust built and maintained over time between the government, companies and park operators are founded on trust and moral values such as transparency, commitment, ethics, respect and responsibility.
This activity is considered one of the most important for the free zone sector, and brings together in the city of Dubai, in the United Arab Emirates, more than 1,000 delegates from 120 countries. In addition to the conference, Bisonó will have an official agenda that includes meetings with ministers, officials, investors and businessmen in the United Arab Emirates.
Among those accompanying him are Daniel Liranzo, executive director of the National Council of Free Export Zones (Cnzfe), Yarisol López, deputy executive director of Cnzfe and, for the private sector, Claudia Pellerano, president of the Board of Directors of the Las Américas Industrial Free Zone, Dominican Republic, as well as José Manuel Torres, vice president of the Dominican Association of Free Zones (Adozona).
Source: Eldinero.com.do
Learn more: TRAVEL