JUNE 2013
Especially in tourism, natural energy and natural gas
Foreign Minister Carlos Morales on Friday received Qatar Ambassador Saud Abdulaziz Mohamed Ibrahim Al-Swidi, who announced that Persian Gulf nation's new government and reiterated cooperation with Dominican Republic to install and operate a regional center to prepare for and deal with natural disasters.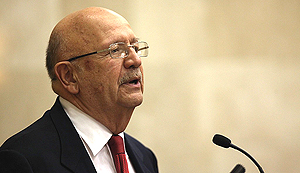 Qatar's Ambassador said the new Emir, Hamad bin Tamim al-Thani, who succeeded his father, Khalifa bin Hamad Al-Thani on June 25, intends to bolster the ties of friendship and cooperation with Dominican Republic.
Morales congratulated the new Emir and noted the two nations' long-standing ties of brotherhood.
In a statement from the Foreign Ministry, the diplomats said the Center in the Dominican Republic will provide a platform to the region's countries to improve their military and civil defense's effectiveness in dealing with natural disasters.
Qatar's ambassador stressed his country's interest in expanding its investments in the Dominican Republic, especially in tourism, natural energy and natural gas.
Qatar has become the world's top exporter of natural gas and is one of the Arab world's most influential nations.