The President of the Republic, Luis Abinader and the Minister of Tourism, David Collado, began this Tuesday, the reconstruction of the access road to Salto de Aguas Blancas, in the municipality of Constanza, at a cost of more than 390 million pesos.
The project consists of the intervention of the access road to one of the most important tourist points of the area, with a total length of 11.93 kilometers.
The road reconstruction project will be executed through the Executing Committee for Infrastructure in Tourist Zones (CEIZTUR), of MITUR, at a total cost of RD$391,462,403.28.
Minister Collado highlighted the importance of the work to strengthen the tourist impulse of Constanza and the province of La Vega.
"The intervention of this access road to Aguas Blancas will mark a before and after for tourists, national and foreign, to reach this paradisiacal place of Constanza," said Collado.
He assured that in his administration no effort is spared to strengthen the diversified tourist offer of the province of La Vega, especially ecotourism.
Project
The project includes the improvement of the road surface, asphalting, storm drainage solution (transversal drainage culvert and improvement of gutters), slope stabilization and protection of the slopes with the construction of a gabion wall.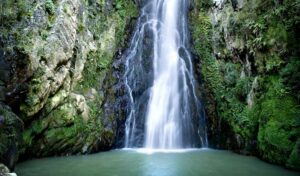 Also, vertical (signs) and horizontal signage (thermoplastic reflective paint in lane division, reducers) and the improvement of the road section, road width of 6.00 meters, which includes correction of superelevations and road pumping.
In the final section, the existing parking lot will be upgraded, the construction of curbs, paving and repair of access steps to the path to the waterfall will be carried out. The community of El Convento will also benefit from the refurbishment of the sidewalks and curbs; cleaning and painting of the existing bridge.
The Aguas Blancas Waterfall
It is located in the Valle Nuevo National Park, 20 kilometers from Constanza, in the area of La Vega. In a journey of approximately 10 kilometers to the waterfall, it is an adventurous ascent, crossing forests and mountain villages. It is an ideal place for bird watching and mountain hiking.
Aguas Blancas is formed by two waterfalls, from a distance they merge visually becoming one of the highest waterfalls in the Caribbean with its more than 83 meters of fall.
In addition to the attraction of the waterfall, the natural scenery in which the Aguas Blancas waterfall is located makes it an ideal destination for lovers of adventure tourism, thanks to the fact that it is one of the best places for hiking.
Source: Mitur.gob.do
Learn More: NEWS