MITUR activates "Tourism in every corner" in the province of Hermanas Mirabal
Minister David Collado assures that where tourism arrives, development arrives.
The Minister of Tourism, David Collado, highlighted the economic impact that domestic tourism has on the communities, due to "its transversality", especially through the generation of jobs.
While leading, in this province, the first activation of the Tourism in every Corner platform, Minister Collado made it clear that where "tourism arrives, progress arrives".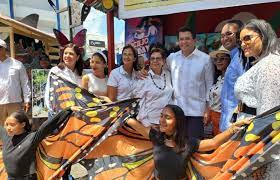 "In this symbolic Hermanas Mirabal province we leave activated this great initiative Tourism in every Corner, a program that seeks to enhance each destination, because truly, the Dominican Republic has it all," Collado said.
Tourism in every corner aims to boost domestic tourism for the local market through the promotion of culture, gastronomy, handicrafts, ecotourism and complementary community offerings.
This innovative initiative seeks to integrate territorial and community groups in activities that generate added value to the destination as a fundamental part of the sustainable development of each province.
As part of the activation of Tourism in every corner here in Salcedo, a wide program of cultural and gastronomic activities, as well as the exhibition and sale of handicrafts, will take place throughout the weekend, especially in the Duarte Park.
Tourism in every corner is the first platform for the promotion and support of local tourism, with a focus on sustainability and inclusion. It was officially launched on August 3, 2022, during an event led by President Luis Abinader and Minister Collado.
The campaign seeks coherence between the knowledge of domestic tourism products and the development of communities, inviting all Dominicans to get to know their country and enjoy all its attractions.
Minister David Collado inaugurates new Butterfly Mural at the opening of Tourism in Every Corner
On this occasion, Tourism in Every Corner takes place in the province of Hermanas Mirabal, which has a wide range of tourist, gastronomic, cultural and historical offerings, symbol of heroic women, as well as fertile lands, rivers and mountains.
Learn more: NEWS