Tropical storm MARCO
Tropical Storm Marco was the thirteenth named storm of the 2008 Atlantic hurricane season
While at tropical storm strength Marco was an extremely small storm; tropical storm-force winds extended out only up to 10 mi (20 km) from the center of Marco. This is likely to make it the smallest tropical cyclone on record in any basin; the previous record holder was Cyclone Tracy in 1974, which featured tropical storm force winds 30 mi (50 km) from the center. However, this fact will require confirmation by a final report on this storm.
Meteorological history
On October 3, a broad area of low pressure developed over the northwestern Caribbean Sea. Over the next few days, the system slowly drifted westward towards the Yucatan Peninsula and remained disorganized. Thunderstorm activity increased as the system crossed the Yucatan Peninsula before emerging in the southern Bay of Campeche on October 6. Organization continued and later that morning, it was upgraded to Tropical Depression Thirteen. That evening, a Hurricane Hunter mission into the system found that the depression had become a tropical storm, with sustained winds of 65 mph (100 km/h) and was given the name Marco.
The National Hurricane Center (NHC) noted that Marco was an extremely small tropical cyclone and that its size was making it difficult to use satellite estimates for its intensity. Without a new flight from the Hurricane Hunters into Marco to find its intensity, the NHC estimated that Marco made landfall in Veracruz with 65 mph (100 km/h) winds on October 7.
Marco quickly dissipated over Central Mexico and the NHC issued its final advisory early on October 8.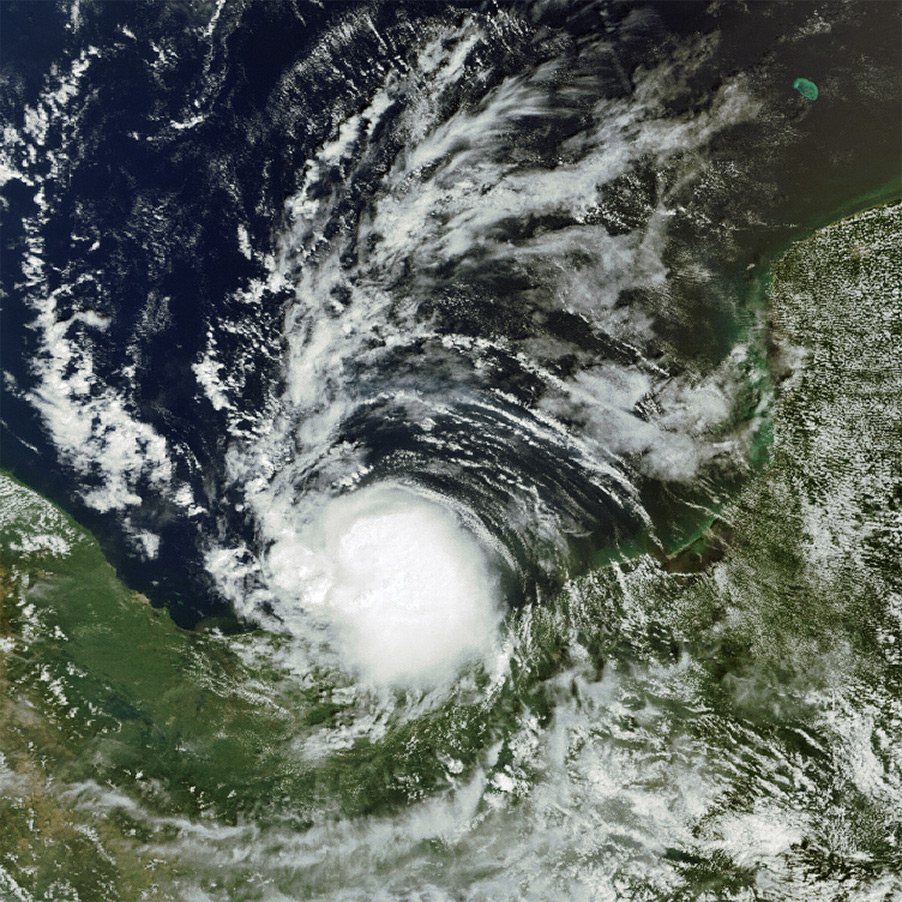 Preparations and impact
Upon the storm's formation, the Government of Mexico issued a tropical storm warning for the Gulf of Mexico from Tuxpan to Punta El Lagarto. That afternoon the government issued a hurricane watch between Cabo Rojo and Veracruz, and extended the tropical storm warning northward to Cabo Rojo. Marco formed in the area of Mexico's main oil-facilites, but there were no disruptions.
Heavy rainfall caused some flooding in coastal towns near Veracruz as people fled to higher ground.