The flow of remittances to the Dominican Republic continued to decline during the month of September, when US$790.6 million was received. This is 4.7% less than the US$829.6 million received in the same month last year.
The decrease in remittances has been constant during the nine months of this year, as US$7,309.4 million was received in the January-September period, for a 7% drop, compared to the US$7,861.3 million recorded in the same period of 2021.
The Dominican Central Bank explained that the economic performance of the United States is one of the main factors that continues to influence the decline in remittances, as 84.9% of September flows came from that country, whose economy has been affected by high inflation and economic slowdown.
Remittances were also received from other countries such as Spain, with 6.2%, second in terms of total Dominican diaspora residents abroad, as well as Haiti and Italy, both with 0.8% of the flows received, respectively. The rest of the remittances received are divided among countries such as Switzerland, Canada and Panama, among others.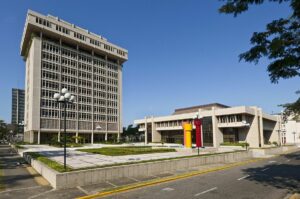 Regarding the distribution of remittances received by provinces, the BCRD indicates that the National District obtained the highest proportion, 34.1%, followed by the provinces of Santiago and Santo Domingo, with 14.5% and 8.9%, respectively. This indicates that more than half (57.5%) of remittances are received in the metropolitan areas of the country.
After analyzing the recent evolution of the external sector, the CB's outlook for the rest of the year is that important foreign exchange flows from remittances, tourism, exports and foreign direct investment will continue. This will contribute to maintain the relative stability of the exchange rate currently observed, such that the exchange rate showed an accumulated appreciation of 7% at the end of September 2022.
The institution highlights that this greater flow of foreign exchange has also allowed the accumulation of international reserves, which by the end of September 2022 were placed above US$13.8 billion, representing about 12.3% of GDP and equivalent to about 5.7 months of imports, metrics that exceed the levels recommended by the IMF.
Learn More: ECONOMY