Air Europa will operate a total of 188 flights and World 2 Fly Portugal will provide scheduled air transportation services.
The Civil Aviation Board (JAC) of the Dominican Republic informed this Wednesday of the concession of new passenger and cargo air operations to and from Dominican territory to the companies World 2 Fly Portugal and Air Europa.
The first airline will provide scheduled passenger and cargo air transport services on the Lisbon/Punta Cana route and plans to begin operations in March 2023, using Airbus A330-300 aircraft, offering the market 40,352 seats in the first year of operation.
Between January 2021 and November 2022, the Lisbon/Punta Cana route recorded 128,455 passengers transported in 476 inbound and outbound air operations.
Madrid/Punta Cana route
The JAC plenary also heard the request for additional flights on the Madrid/Punta Cana route for the 2023 winter season from Spanish air operator Air Europa, which is authorized to offer scheduled air transport services for passengers and cargo from Spain to all Dominican airport terminals.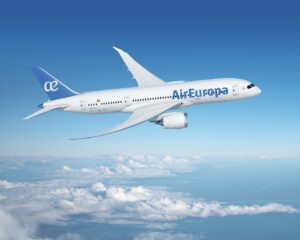 Operations on this route are projected to be carried out between February 20 and March 21, 2023, with a frequency of one flight every Monday.
Air Europa moved 496,184 passengers in 1,842 operations in and out of the Dominican Republic, in the period January 2021-December 2022.
The Civil Aviation Board recently granted Air Europa the possibility to operate under the special permit modality a total of 188 flights on the Madrid/Santo Domingo/New York and Madrid/New York/Santo Domingo routes, on Tuesdays, Wednesdays, Fridays, Saturdays and Sundays, from June 20, 2023 to October 29, 2023.
Source: Diariolibre.com
Learn More: ECONOMY