France prepares to celebrate Contemporary Art Week in October
Around 2,000 plastic artists from around the world and 600 art galleries from some 100 countries, including the Dominican Republic, will gather in Paris, France, from October 21 to 23, to celebrate Contemporary Art Week with a grandiose exhibition, which is expected to be attended by more than 30,000 people.
The event will take place at the Carrousel du Louvre, located just below the famous glass pyramid in the heart of the Parisian capital, which is already preparing to receive more than 2,000 artists from around the world who have been invited to be part of the "Salon International D'Art Contemporain", in its 30th version.
From the Dominican Republic, the Contemporary Collective of Visual Artists (COCO D' ART), together with ProArtesaníaRD and other entities, will represent the country in this artistic event that will take place in the most famous art museum in the world: the Louvre, which is visited every year by nearly 30 million people.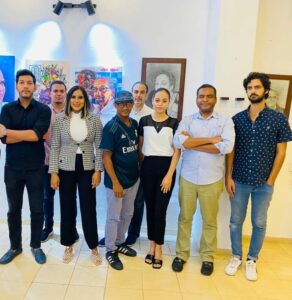 The Dominican delegation will include visual artists Wirquin Manuel Terrero, Brenda Pérez, Augusto Batlle, Karim López, Elvin Tolentino, Víctor Moreta, Andjela Milenkovic, Ivelisse de León, Diego Medina, Ramón Cabrera (J R Camotti) and Karla Bautista, among others.
The Contemporary Art Week in Paris promises to be one of the most important artistic events of the year on a global scale, as every year it gathers thousands of artists from all over the world, explained Ramiro Torres, president of Artshow, one of the galleries that will be representing many artists from the United States, and Wirquin Manuel Terrero, president of Coco D' Art.
In the case of the country's representation, they will also present a sample of their paintings at the headquarters of the Dominican Embassy in France on October 25.
Learn More: ART