The Dominican Association of Medical Schools and Faculties (ADOFEM) met with the methodological and logistical team of the National Strategic Health Plan (PLANDES) 2030 at the Padre Aleman Hall of the Ministry of Economy, Budget and Development (MEPyD) in Santo Domingo.
The meeting was headed by deans and directors of the Faculties of Health Sciences and by the president of ADOFEM, Dr. Miguel Robiou Kranwinkel and dean of the Health area of INTEC.
The meeting was also attended by the vice-minister of strengthening and development of the health sector, Miguel Rodríguez Viñas, the technical coordinator Dr. Reynaldo Peguero and the technical consultant Dr. Cecilia Buchanan with the main objective of the participation of the academies in the diagnosis, formulation and implementation of PLANDES 2030 towards the future vision, strategies and projects of health, especially human resources within the National Health System.
During the meeting, aspects of contextualization and motivation were presented, as well as the key points, strengths and weaknesses of human resources in health in the Dominican Republic.
The deans and directors of the Faculties of Health Sciences, members of ADOFEM, which train human resources in health (HR) at the undergraduate, advanced technical and postgraduate levels (specializations), such as doctors, nurses, bioanalysts, pharmacists, dentists, among others, analyzed future proposals and projects to be presented with the consensus of ADOFEM.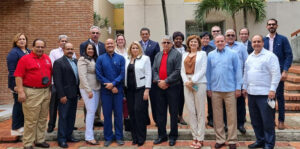 Among these proposals will be to analyze the context of the quality training of the Medical Residencies endorsed by the universities, review and update of the Single National Examination of Medical Residencies (ENURM), internship law, curricula and mapping of the same.
Likewise, inclusion in health and services, situational diagnosis of what type and where HR are needed, national and international accreditation, comparability, the role of ADOFEM in homologation and certification, presence in Law 42-01, science, technology and humanism and health work with the community.
After the swearing in of the presidency of the commissions for PLANDES 2030, the official decree and the definition of the key sectors to be involved in the various thematic axes identified and the complete collection of key information are still pending.
Present at this important meeting were 100% of the Universities and their Faculties of Health Sciences and Schools of Medicine members of ADOFEM such as O&Med, UCNE, UTESA, INTEC, PUCMM, UNIREMHOS, UNPHU, UCE, UNIBE, UASD and UCATECI.
Dr. Robiou expressed his satisfaction with the meeting and thanked the Ministry of Public Health and its representative, Vice Minister Rodríguez Viñas and the technical team.
He spoke of the formation of a management committee for the preparation of the various proposals that will be selected and invited to the next ADOFEM meeting to be held at the Pedro Henríquez Ureña National University (UNPHU) on Thursday, January 19, 2023.
Source: Diariosalud.do
Learn More: HEALTH