Encarna Piñero, vice-president and CEO of Grupo Piñero, highlighted the strategic importance of Cayo Levantado Resort to enhance the value of one of the most important emblems of the Dominican Republic, the Samaná peninsula, as well as its contribution to the economic development and the business fabric of the region and its communities.
He recalled the strong bond that unites the company with the country:
"We are nearing 30 years of operation in this wonderful country, practically the DR has become a second home for our family. The commitment we have to the destination, the planet and, of course, the people, is unwavering. If we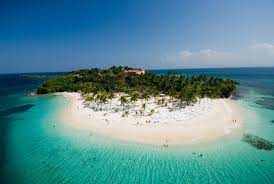 want to talk about the future of tourism in the country, it is clear to us that both sustainability and the ability to connect with our different stakeholders are key guidelines," he said.
He indicated that "with Cayo Levantado Resort, Grupo Piñero has invested US$40 million in a product with a unique and differentiated personality, adapted to the luxury segment and at the forefront of the transformation of the sector. From this, a new vision of what luxury tourism should be has been created, called: "the luxury of regenerating(se)".
"Our most important commitment to innovation and sustainability revolves around a triple regeneration: first, focused on the luxury of regenerating on vacation through exclusive experiences designed for wellness, care and meditation; second, with the luxury of regenerating our environment, where our presence must mean an improvement to biodiversity, and that besides being a luxury is a commitment and a responsibility; and third, with the luxury of promoting local culture by fostering talent and contributing to economic development," he said.
Source: Arecoa
Learn more: HOTELS