Iberostar and Hyatt are starting a hotel complex in the Dominican Republic that plans to build 4700 rooms in a first phase in the province of Pedernales.
"These two chains of international prestige, moved by the confidence and stability guaranteed by the government of President Luis Abinader, are the pioneers, the ones that initiate the definitive tourist development of a beautiful province, with a paradisiacal coast, full of attractions, with noble and hardworking people, as is Pedernales," said the Minister of the Presidency, Joel Santos Echavarría.
The development, contemplated over a period of 10 years, estimates the construction of 12,000 rooms. The award for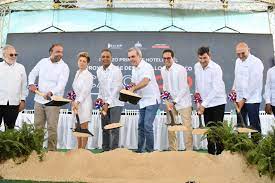 the construction of these hotels is in charge of the consortium Therrestra-Estel and Cocaro Development, forming part of the Trust and contemplates an investment of US$240 million.
"For a serious and honest ruler, the word promised to his people to bring about a real and tangible change, with concrete projects and fulfilled promises is, without a doubt, the reason that moves me and my government in the task of managing this country day by day", said Abinader, who took the opportunity to announce that the Pedernales-Cabo Rojo Tourism Development Plan already has the environmental license for the construction and operation of the project, which was issued by the Ministry of the Environment and Natural Resources.
As REPORTUR.mx revealed, at the end of last year the leading hoteliers of Cancun and Riviera Maya announced an investment of one billion dollars for the next two years in the Dominican Republic (Large Cancun hoteliers say that the Dominican president is the best in history).
Source: Reportur.com
Learn more: HOTEL