Meliá Hotels recognized by ProDominicana for Foreign Direct Investment
Melia Hotels International was recognized by Prodominicana in the Foreign Direct Investment (FDI) awards for tourism.
The award was received by the Managing Director in the Dominican Republic, Francisco Camps Orfila and presented by Biviana Riveiro, Executive Director of Prodominicana, the Minister of Industry and Commerce, Victor Ito Bisonó and the Ambassador of Spain in the country, Mr. Antonio Pérez-Hernández y Torra.
The awards ceremony and gala was held on the evening of September 13 in the auditorium of the Central Bank of the Dominican Republic and was attended by special guests, businessmen, international investors, accredited ambassadors, ministers and the stellar presence of the Vice President, Raquel Peña.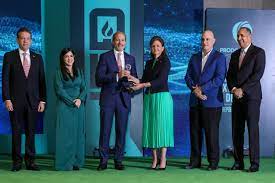 Biviana Riveiro, Director of Prodominicana, highlighted the Meliá hotel chain for its substantial investments in the country throughout its 30 years since its arrival, in addition "this Spanish chain is currently undergoing a major expansion plan, with new hotel projects, remodeling and building a new amusement park in Punta Cana, with a direct investment of more than US$350 million", said the official.
Francisco Camps, MD Meliá in the Dominican Republic
Francisco Camps Orfila thanked Prodominicana for highlighting the efforts and leadership of the hotel company as a foreign investor and assured that: "The Dominican Republic is a country that generates confidence for investment", among other actions "due to the very good management in the last COVID Crisis, the public-private collaboration and a state vision where tourism is a priority sector", said the executive.
Camps extended the greetings and gratitude of the CEO of Meliá Hotels International, Mr. Gabriel Escarrer, who sees the Dominican Republic as a country that has always opened its doors to develop its projects in the tourism and hotel sector, with the utmost confidence and that has a good business climate for foreign investment.
Meliá Hotels' current investments in the Dominican Republic
Meliá Hotels recently announced that it will open the first Falcon's Resort by Meliá – All Suites Punta Cana in the Dominican Republic, the result of the transformation of two of its hotels in the Punta Cana destination, the Paradisus Gran Cana and The Reserve at Paradisus Palma Real, with a total of 622 rooms.
According to the hotel company, the first phase is expected to be completed by the end of the year, converting the current Paradisus Gran Cana into an all-inclusive resort that will offer new experiences and facilities, as well as a unique interactive platform that will be announced soon. The second phase, which will transform The Reserve into Paradisus Palma Real, is expected in 2023.
Meliá and Falcon's are also building Katmandu Park Punta Cana, a new state-of-the-art theme park scheduled to open in December 2022, and Falcon's Central – Punta Cana, an exclusive retail, dining and entertainment space currently under development.
Learn more: HOTELS