New adult hotel in Miches will have a US$190 million investment
The Temptation hotel complex opens on October 1 and will generate 800 direct jobs.
The Dominican tourism industry wants to be much more than sun, beach and sand. Its expansion continues over the years, action that foreign entrepreneurs are betting on the diversification of destinations. It is in this context that on October 1, the Temptation Hotel in Miches, El Seibo province, opened its doors to the public. The inauguration ceremony by President Luis Abinader is scheduled for September 29.
This was stated by the executive of Grupo Original, Carlos del Pino, in conversation with elDinero. "Miches has the potential to become a new destination, and it is supported by national businessmen and the government", he said.
With an investment of US$190 million, the complex will be divided into Temptation Miches Resort and Temptation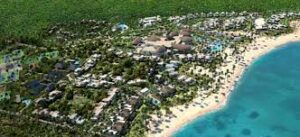 Grand Miches, which will provide 490 rooms to the hotel market.
In addition, it will generate 800 direct jobs, which will have a positive impact on the Dominican community. However, human talent for the competitiveness of destinations takes relevance in hotels that offer "experiences". "We have international teachers who are training our employees to learn English, since they will be in contact with an average of 85% of American guests," says Del Pino.
He emphasizes that the hotel's focus is aimed at a public between 35 and 50 years of age, due to their purchasing power, since they estimate that the average annual family income varies between US$65,000 and US$130,000 for the Temptation Miches hotel. Meanwhile, Temptation Grand is based on the segment of the population with earnings between US$120,000 and US$190,000 annually.
Investment
The potential of this destination, located in El Seibo, attracts investors who welcome the Dominican Republic as a hub for investment in the tourism sector. With nine kilometers of pristine beaches, the executive understands that the complex will add to the new Miches destination, benefiting from the proximity of the Punta Cana International Airport.
"What we are looking for from Miches is to attract our American, Canadian and European clients to get to know this new destination and benefit a Dominican community by contracting its services," he said.
Learn more: HOTELS