Wyndham Hotels & Resorts, the world's largest hotel franchise company, with approximately 9,000 properties in 90 countries, is accelerating its expansion plans in the Dominican Republic with the announcement of the Wyndham Grand® Torre Everest Santo Domingo, a new major landmark that will become one of the tallest hotels in the center of the Dominican Republic and the first Wyndham Grand hotel in the country, with the highest restaurant in the city.
Committed to the development of the country, betting once again to boost the National Tourism Sector through innovation and expansion of varied offers to attract tourists, businessmen Jose Rosado Torres and Edward De Valle II, made an alliance -through corporate vehicles- to achieve the construction and operation of a hotel project with condominium, called "Everest Wyndham Grand", will be located in Santo Domingo, Dominican Republic. Mr. Jose Rosado Torres, president of La Constructora Toros, is a visionary, who has a complete business trajectory in the national market; on the other hand, Mr. De Valle II, who will be the representative owner's and hotel management company, has vast experience in real estate, tourism and hotel investment at an international level, additionally, he is the one who manages in the national territory and with exclusivity character, a portfolio of brands to represent Wyndham Hotels & Resorts, Inc, which with this project is established for the first time with its brand "Everest Wyndham Grand" being in Santo Domingo the first project of this height, marking a milestone of international presence of great value.
Everest Wyndham Grand, scheduled to open its doors in the spring of 2025, joins the family of Legacy Brand 5-star hotels such as J.W. Marriott and the Intercontinental Group. A product of the alliance between Constructora Toros and Grupo De Valle, the project is currently on the 14th floor of the 22 that will be, this high quality project is located at Calle Federico Geraldino No. 43 in Piantini, whose main attraction will be its location and the proposal of a first class restaurant that will be for the country a destination in itself. The Restuarante 360 WIEW, will be the first rotating 5-star crystal restaurant in the country. Creating a global tourist destination in itself. The planned structural design is intended to draw attention to both domestic and foreign tourism, offering a first class service that will attract leisure and business travelers, offering two hundred and fifty-two (252) rooms, two restaurants, meeting rooms, event hall, offices and other operational facilities. Additionally, the project would have the support of ESTRELLA TUPETE ABOGADOS dedicated to offer advice and diversified legal management in accordance with the highest quality standards.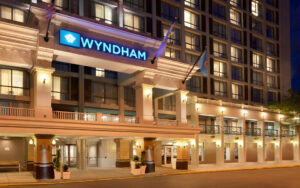 Armando Toros Construction Company
We are a construction company with more than 25 years providing value to the real estate sector, which develops projects for the upper middle and upper class of Dominican society, with a focus on quality, vanguard and first class completion, offering in each project the dream of the owner or the most profitable business for the investor, relying on technology and the talent of a team of professionals who work with passion and commitment to deliver extraordinary results to its customers.
Currently, Constructora Armando Toros, also together with its solid partners, is carrying out the following: More than 300 rooms!
Canis Dazzler Santo Domingo by Wyndham
Caribbean Dazzler Juan Dolio by Wyndham
De Valle Group
Grupo De Valle is a financial group led by multicultural minds with dynamic and creative solutions for day-to-day business. Our business portfolio spans numerous industries, from private equity to philanthropy in the Dominican Republic.
The overall objectives of our group are to develop hotels and real estate products throughout the Dominican Republic (National Territory). Unlike other industry leaders developing hotels and real estate in the Dominican Republic, 100% of Grupo De Valle's efforts are focused on creating, innovating and expanding the country's numerous business and leisure destinations.
Currently, Grupo De Valle, together with its strong partners, is currently undertaking the following. Over 1,000 rooms!
La Quinta Puerto Plata
Wyndham Pedernales
Wyndham Grand Santo Domingo
Super 8 Manzanillo – Opening December 2022
Super 8 Monte Cristi – Opening April 2023
Super 8 Miches
Super 8 Santo Domingo Airport
Canis Dazzler Santo Domingo by Wyndham
Caribbean Dazzler Juan Dolio by Wyndham
Wyndham Garden Punta Cana
Center Stage is our community outreach in each of the areas where we operate, supporting technical education, job and salary opportunities, and supporting local communities with clean environmental initiatives.
Source: Elcaribe.com.do
Learn More: DEVELOPMMENT