The Dominican Republic swept the board at the XVIII World Domino Championship held over the weekend at the Barceló Bávaro Grand Resort hotel.
The event, which was organized by the International Domino Federation (IDF), was attended by 18 countries.
The Dominican Republic team, composed of players Eladio Cruz, Moisés D'Oleo, Fernando Martínez and Víctor Mejía, finished as champion in the team modality.
The Quintana Roo team won the gold medal with a record of 29 games won and 11 lost.
The Dominican team was represented by the Amigos del Parque Club, of which universal champion and eleven-time world champion Joaquín Martínez is also a member.
The Dominicans obtained three gold medals and also won silver and bronze medals.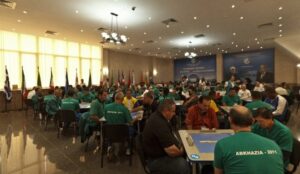 The second place and silver medal went to Club Los Limones de Higuey and the third place and bronze medal went to Club Dinamita.
With the presence of more than 600 players, the high level of the Dominicans in this sport of the science game was demonstrated.
The best player of the champions was Eladio Cruz.
On the other hand, the president of the international organization, Manuel Oquendo, congratulated the winners.
This world event was dedicated to former President Hipólito Mejía, who also took part in the individual competition and finished with an outstanding performance with a record of 4 wins and 2 losses,
The event was sponsored by the Presidency of the Republic.
Learn More: HIGHTLIGHTS