Rafael Devers has been one of the most important players for the Boston Red Sox since he first debuted in Major League Baseball. His presence on the field has been so unique that the organization gave him a ten-year, multi-year contract.
Now, with his future secure, Devers has focused on what he does best and that is hitting. The shortstop has gone from strength to strength in his production and in just a few hours, the Dominican hit his eleventh homer of the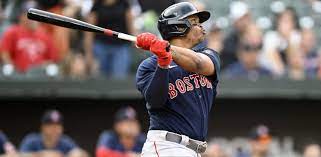 season and the 150th of his career.
This figure helped Devers to join two historic hitters such as Ted Williams and Jim Rice, who until recently were the only ones to hit 150 balls in their fastest career. Specifically, Williams did it in 664 games and Rice in 711.
Devers, with 721 games in Major League Baseball, proved that he is one of the most dangerous hitters today and at this rate, he could become one of the leaders in home runs in Boston.
Source: Meridiano.net
Learn more: SPORTS