The Dominican airline, Air Century, participated in the ANATO 2023 tourism fair in Bogota, with its own stand, where it achieved important results.
Air Century took advantage of the fair to make its brand known to a wider public and to capitalize on new routes in the short and medium term. In addition, the company formalized an important alliance with ASSIST CARD, which will provide travel assistance insurance that will begin to be sold in the next few days.
Felipe Gutiérrez, commercial director of the airline, stated that Air Century's participation in ANATO 2023 was a highly successful experience. The company established important strategic relationships, consolidated its brand and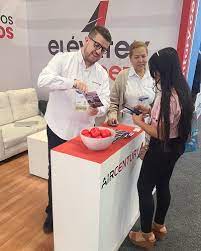 presented new business opportunities for this year.
Air Century is committed to continue working together with the tourism and business sector to develop new products and services that contribute to the growth and strengthening of the tourism industry in the Dominican Republic and the Caribbean.
ANATO is the most important tourism fair in Colombia and is attended by representatives from more than 30 countries. The tourism fair is organized by the Colombian Association of Travel and Tourism Agencies and this is its 42nd version.
Source: Diariosocialrd.com
Learn more: TOURIMS