The Minister of Tourism, David Collado, inaugurated this Tuesday the Dominican pavilion at the ITB-Berlin tourism fair, where he guaranteed that he is working for the total recovery of German tourism.
"We are here, at the ITB-Berlin, to work, together with the private sector, for the total recovery of German tourism, because of the importance of this market," said Minister Collado.
He recalled that Germany was once the main European issuer of tourists, so he understands that the time has come to recover those numbers.
"The time has come to recover the German market, for us to once again become their favorite long-haul destination," said the Dominican Minister of Tourism.
The 448-square-meter Dominican pavilion includes 26 co-exhibitors from the private sector, as well as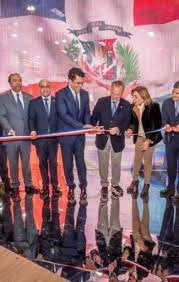 representatives of the national banking sector.
In addition to Collado, businessman Frank Rainieri spoke at the event, highlighting the importance of the German market for the Dominican Republic.
"Thank you, Minister David Collado, for being here in Berlin, working to recover the German market," said the founder of the Punta Cana Group.
Rainieri also congratulated Minister Collado for the success of the roadshow he presented to 250 tour operators and travel agents on Monday night.
In that event, the official presented the benefits and diversification of Dominican tourism.
Travel agents, tour operators and airline owners expressed their satisfaction with the presentation made by Minister Collado.
Source: Presidencia.gob.do
Learn more: TOURIMS