The fair will be held from November 4 to 6, at the facilities of the Universidad Católica Tecnológica de Barahona.
The Tourism and Production Cluster of the province of Barahona will hold the 4th edition of its tourism and production fair "Descubre Barahona, towards a sustainable development", from November 4 to 6, at the facilities of the Universidad Católica Tecnológica de Barahona (UCATEBA).
"Descubre Barahona" is loaded with activities focused on promoting the sustainable development of the southern region, showing in the same space innovation, entrepreneurship, tourism and agriculture; as well as highlighting the value of the productive chain of service based on sustainability.
The Executive Director of the Cluster, Rafael Nazario, informed that the Descubre Barahona fair is evolving favorably with the integration of new exhibitors and in particular, the participation of the southern destinations, as part of a robust exhibition that seeks more than to develop a destination, to promote tourism to an entire region.
Among the novelties this year, the exhibition will feature a proposal focused on Slow Food, a movement that emerged in Italy in the 1980s and promotes the rescue of ancestral recipes of each community, from dishes that are part of their local culture, with a low environmental footprint and seeking fair trade.
At the event, chef Carlos Estévez, the country's main promoter of this food trend, will be in charge of talks and cooking shows based on this modality.
Another first will be the Business Roundtable, a space where entrepreneurs and established businessmen will present their products and services to potential customers, making it an ideal place to connect and promote commercial exchange.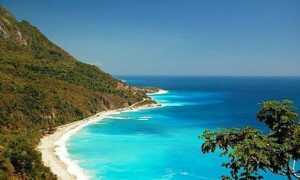 At Descubre Barahona 2022, visitors will once again be able to enjoy cooking shows by Luisa Feliz and her guest chefs; craft and commercial exhibits, cultural activities, talks, as well as presentations by national and regional artists, from 10:00 am to 9:00 pm.
The calendar of activities is available on the web www.gobarahona.com and on social networks @enjoybarahona.
The tourism and production fair has the support of the Ministry of Tourism, MEPyD, Barahona Senatorial Office, European Union, Dominican National Brewery, BanReservas, FEDA, Slow Food Community, Central Sugar Consortium, EGEHAINA, Grupo Rica, AERODOM, Confenagro, GoBarahona, Producciones Buen Vivir, as well as the presence of more than thirty exhibitors from the most developed productive sectors of the region.
About Descubre Barahona
It is an initiative of the Tourism and Production Cluster of Barahona, whose purpose is to publicize the products, tourist attractions, businesses and culture of Barahona, as well as to promote value alliances between provinces, boost the economy, provide training to SMEs and publicize new opportunities that can be exploited using existing resources in the area.
Learn More: EVENTS