He was for a long time the only Dominican on the WTTC, where he is on the executive committee.
Frank R. Rainieri is the founder of the Punta Cana Group and chairman of its Board of Directors. He is an unequivocal reference for tourism, not only in the Dominican Republic, but globally. He is a member of the Executive Committee of the World Travel and Tourism Council (WTTC).
When he talks about tourism, it is because he knows about the subject, and he is very clear about the pending issues of this industry in the country.
"We have two or three things we have to achieve first. Very important is to see how we manage to have a more competitive fuel price, which is not subject to the ups and downs of the country's needs, because that is very delicate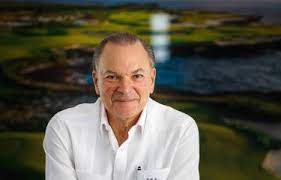 and sends a bad message", says the businessman to Diario Libre.
"The second thing that is important is to see how we support national airlines that fly to destinations in the United States that compete with us, which will not be easy, nor will it be in two years, nor in three years, because landing at Kennedy or Miami during normal hours is not easy. And if you get pulled for midnight, the ones who are going to fly are the Dominicans, not the tourists, but you have to start there," he adds.
"Our industry is already reaching a point where we should think about joining together, a group of Dominican businessmen, and see how we can become partners or owners of an international tour operator, because that guarantees you a flow of tourism from its origin," he says.
The European market
Rainieri understands that the Dominican Republic has an unfinished business with European tourism, which can be exploited even more.
"One of the markets that we have to work harder, while we maintain and grow the American, Canadian and Latin American markets, is the European market, a market that we have to give more affection to. We had 400,000 Germans coming to the Dominican Republic and we have 200,000. We had 200,000 Italians, we are at 95,000. We have to work on it now," he says reflectively.
"The European market we have to get it back, not at the levels we had, but higher. And especially that the country is opening new destinations, such as Miches, Pedernales, Samaná… the European is more adventurous than the American, is more daring and more given to travel. They do not require air conditioning with a temperature of 20 degrees. They like typical food, there doesn't have to be fast food, or steaks or anything like that," says Rainieri, who says he is very happy to no longer be the only Dominican in the WTTC, after the entry of the National Association of Hotels and Tourism of the Dominican Republic (Asonahores) to the organization.
Source: Diariolibre.com
Learn more: ECONOMY