Jamaica's Prime Minister, Hon. Andrew Holness, showed his interest in strengthening diplomatic relations between the Jamaican nation and the Dominican Republic, which is Jamaica's third largest trading partner in the Caribbean region.
Through his Instagram account, the prime minister said he met with DR Ambassador to Jamaica, Angie Martinez Tejera, and her business delegation, to join efforts particularly in trade, agro-processing processing, energy and construction.
"We are committed to strengthening our bilateral and diplomatic ties with the Dominican Republic and working together for mutual benefit. I believe that by working together we can achieve great things for our two countries and for the region as a whole," said Andrew Holness after the diplomatic meeting in commemoration of the inaugural Dominican week in Jamaica and the Caribbean.
The agenda includes the First Dominican Republic-Jamaica Business Forum, the flagship business event, which will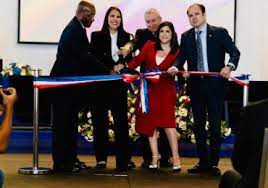 be held from today, February 21 to Thursday, February 23 at the prestigious AC Kingston Hotel.
At the forum, Dominican companies will be able to make direct contact with their Jamaican counterparts interested in doing business, hold B2B meetings and participate in business rounds and high-level panels on topics such as trade, investment, tourism, connectivity, logistics, orange economy, agriculture, finance, among others; in which prominent players from both the Dominican Republic and Jamaica will participate.
The Business Forum will also be a space for Dominican companies interested in exhibiting their products and services. According to the social networks of the Dominican Embassy in Kingston @rdenjamaica, important economic groups, business associations and prominent personalities have confirmed their presence in the first Dominican Week in Jamaica.
The Dominican Embassy will also hold an awards ceremony in which the "Dominican Republic-Jamaica Business Leadership 2023" award will be presented to recognized companies and personalities who have been pioneers in the establishment of a new era in trade relations between the two countries, contributing significantly to the strengthening of bilateral relations between Jamaica and the Dominican Republic.
The Dominican Week will also include an important cultural agenda, including a gala concert with the renowned Dominican violinist Aisha Syed.
Source: Robertocavada.com
Learn more: COMMERCE