The Colonial Zone is one of the most popular tourist destinations in Santo Domingo. Every day it receives visitors, both local and international. The busiest days are weekends. Likewise, there is an increasing number of attractive activities for all ages.
There you can find everything from food establishments that explore Dominican gastronomy to artisan stores that sell products made in the country.
The best pastime begins with a tour of the streets on foot or by bicycle. This also becomes an excursion for educational purposes. During this time, you can visit symbolic places such as the Catedral Primada de América and the Alcázar de Colón. Also the Ruins of San Francisco, the Ruins of the Nicolás de Bari Hospital, the Casa del Cordón, the Ozama Fortress, the Museum of the Royal Houses and Las Dama Street, among others.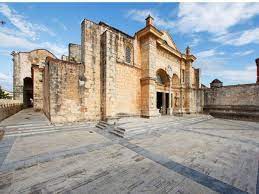 In terms of entertainment, the Colonial Zone is increasingly becoming a place from which you can have your picture taken, not only because of its impressive views and architectural works, but also because of the various people who offer their services in exchange for a voluntary contribution from visitors. This practice takes place in one of the most touristic places in the world, known as Times Square in the United States.
El Conde Street
From the entrance of the Calle el Conde some artists share their art to give life to this tourist space with their entertainment, and by the way, they also earn some money with the charity of the visitors.
Characters
Among the characters that are stationed along the Calle el Conde, there is the gentleman sitting in the "nothingness" with a cane, to whom people just ask how does he do it? Also, El Minero with his characteristic gray protective suit and El Señor en Blanco, who represents "peace, love and respect".
Among the children's favorites are the Disney characters, Mickey Mouse and Minnie Mouse, The Little Mermaid and also the impersonator of the artist Michael Jackson.
Artistic offerings
As well as those who use their creativity for ingenious costumes that entertain, artists with different talents also capture the public's attention with various presentations. Some harmonize spaces with their voices, other groups offer typical music, such as the group of young blind people in the Parque Colón.
For a taste of Dominican culture, a group of children with tambourines, güiras and drums play the traditional palos.
The entertainment is very diverse, the show is not only about music. The magician Jean Carlos entertains young and old with his impressive magic acts.
And for those who love culture, art is in full swing. Enmanuel Martínez draws live portraits of visitors, and his paintings can cost between RD$400 and RD$600, he told elCaribe.
Source: Mitur.gob.do
Learn more: TOURISM