Tourism in 2023 started the same or stronger than in 2022, which was the best year in history for the Dominican Republic. This was stated by Tourism Minister David Collado, during his usual presentation on the sector's results to the country's media.
According to the data presented, the recently ended month of January became the best January in the history of the Dominican Republic with the arrival of almost one million visitors. By air, 674,737 tourists entered the country for a growth of 27% with respect to 2022; and by cruise ships, 273,845 cruise passengers arrived for a growth of 191% with respect to 2022. This results in a total of 948,582 visitors, which translates into a 52% growth in total visitor arrivals through the country's airports and ports.
"The challenge in 2023 is to surpass ourselves, after the extraordinary results of 2022, and we are achieving it" stated Minister Collado who explained that this is the result of the tireless work of the tourism cabinet headed by President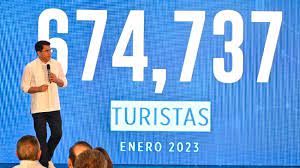 Luis Abinader, as well as the Mitur team; and of the harmony and teamwork that is being done hand in hand with the private sector to promote and continue to grow the arrival of foreigners to the country.
Deputy Minister of Tourism, Jaqueline Mora, explained that as far as cruises are concerned, January 2023 was the month with the highest arrival of cruise passengers in the history of the country, surpassing by almost 50% the previous record which was January 2017 when 186,000 passengers arrived in the Dominican Republic, versus more than 273,000.
"And not only was it the best month in history in terms of cruise arrivals, it was also the one with the highest number of operations with a total of 112 operations within which the largest cruise ship in the world, the "Wonder of the Seas" with a capacity of almost 7 thousand people, was received at the port of Taino Bay" stated Mora.
As for air visits, the month of January 2023 had an increase of 27% over the same month of 2022 and 13% over January 2019, with the most visited airport being Punta Cana which received 406 thousand tourists, followed by Las Americas with 141 thousand and then Santiago and Puerto Plata with 62 thousand and 45 thousand respectively.
Average hotel occupancy stood at 78% in January 2023, surpassing the average occupancy of 2022 which was 71%. The tourist center with the best average occupancy rate was La Romana / Bayahibe with 84%, followed by Punta Cana / Bávaro with 83%.
Source: Mitur.gob.do
Learn more: TOURIMS