JetBlue Airlines announced that it will expand its network in the Dominican Republic with the launch of two new air routes that will be available starting in November of this year.
The two new routes will be non-stop from Orlando International Airport (MCO) to Punta Cana International Airport (PUJ) and another to Cibao International Airport (STI).
To celebrate the opening of these new routes, the airline has launched an offer, where those interested will be able to purchase their one-way flight from $123. The offer will be available this Thursday 17 and Friday 18 through its website.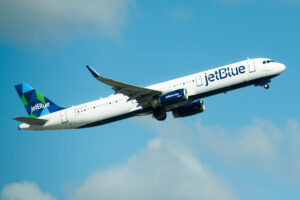 "As the largest airline in the Dominican Republic, JetBlue is proud to once again expand its network in the country with the launch of two new routes," the airline wrote in a press release.

"Punta Cana and Santiago are two important destinations in the Caribbean, but there are currently limited options for customers to get there from Orlando," said David Jehn, JetBlue's vice president of network planning and partnerships" continued Jehn.
Source: Mitur.gob.do
Learn More: FLIGHTS