The Minister of Tourism, David Collado, was recognized by the Florida-Caribbean Cruise Association (FCCA) during a roadshow organized by the Ministry, for the record number of cruise ship passengers arriving to the country,
This activity was carried out by the Ministry of Tourism in Miami, Florida, to 200 tour operators and travel agencies specialized in cruise tourism.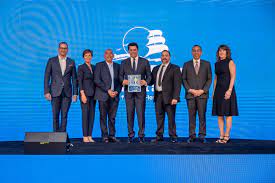 The recognition was given, for the second time, to Collado for his contributions to the development and growth of cruise tourism in the Dominican Republic, which in 2022 closed as the Dominican Republic's best year ever with 1.3 MM cruise passengers, a record figure for the country.
More about the FCCA
The Florida-Caribbean Cruise Association (FCCA) is a non-profit trade group composed of cruise lines operating more than 100 ships in Florida, the Caribbean and Latin America.
Created in 1972 to provide a forum for discussion on tourism development, ports, safety, security, security and other cruise industry issues.
It also fosters understanding of the cruise industry and its operating practices.
Source: Listindiario.com
Learn more: CREISES