Víctor Víctor Pacheco Méndez, assured that the airline is beginning to write a new chapter in the history of Dominican aviation.
Arajet launched its first connection between Mexico City and Medellín -with a stopover in Santo Domingo- during the Tianguis Turístico 2023, Mexico's most important tourism fair.
To inaugurate this route, it also launched flights at only US$5 each way plus taxes to fly to Mexico City and Cancun or vice versa.
Víctor Víctor Pacheco Méndez, general manager and founder of Arajet said that the airline is beginning to write a new chapter in the history of Dominican aviation that will enable the country to become the great low-cost hub of the Americas.
"The context of Tianguis Turístico is the ideal scenario to launch connections, Arajet's first major evolution as an airline. Since last Friday, March 24, our passengers can fly from Mexico City to Medellin, using Las Americas International Airport in Santo Domingo as a connection point, without going through immigration or baggage claim. With this connection we begin a new era in our low-fare hub in the Dominican Republic," said Pacheco during the press conference in this city.
Pacheco also announced a fifth frequency to Mexico City on Saturdays from Santo Domingo International Airport (SDQ) to Felipe Angeles Airport (NLU) available from May 6, which completes the airline's offer on Tuesdays, Thursdays, Fridays and Sundays.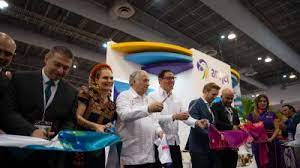 In connection with the launch of connections and Arajet's presence at the fair for the first time with a stand as the only international low-cost airline invited to the event, Pacheco launched the latest stage of the "Vuelatón de Pecios Bajos" promotion with flights from Mexico City and Cancun to Santo Domingo at a fare of US$5 (taxes and fees not included).
The promotion will run from today through Friday, March 31, and is available for travel from April 11 through October 28, 2023 (excluding dates from July 1 through August 15, 2023).
"We celebrate with the Mexican people our milestone of having transported 30 thousand people to and from Mexico, and our leadership in international passenger transportation at Felipe Angeles International Airport, with a unique fare, so that both Mexicans and Dominicans can enjoy tourism, commercial and business opportunities between our two brotherly countries" Pacheco pointed out.
"Mexico is the second largest trading partner for the Dominican Republic, and Arajet has managed to crystallize through our routes from Santo Domingo and with connections, a common interest in strengthening economic, tourism and commercial exchange," he said.
A second phase of connections will include flights from Mexico City and Cancun to St. Marteen, Aruba, Curacao and Jamaica in the Caribbean.
Source: Acento.com.do
Learn more: TRAVEL