Dominican Republic has some of the best beaches in the world, splendid accommodations and a great variety of plans.
Among the main attractions of this place are its stunning beaches, nature, culture and gastronomy, as the Dominican Republic is popular for being an ideal destination for golf, romantic celebrations and adventure travel.
Located in Samaná is Los Haitises Park, a unique protected area composed of mangroves, karst mountains (a form of relief caused by chemical weathering of certain rocks), coves, caves and bays.
There you can do activities such as kayaking in Caño Hondo, hiking through the caves, boat rides, or just enjoy the wonderful scenery. This park is one of the most representative places in the Dominican Republic and over time it has become popular thanks to the fact that it was used as a film set for some scenes of the movie Jurassic Park.
2. Santo Domingo
It is one of the most culturally rich destinations in the Caribbean, as its cobblestone streets and contemporary buildings retain all the splendor of the colonial era, which made this city a World Heritage Site.
Today, Santo Domingo offers an important tourist attraction in terms of art, culture, gastronomy and shopping, as the city has renowned American and European stores and boutiques.
3. Baní Dunes
Located between the towns of Matanzas, Las Calderas and Las Salinas are the Dunes of Baní, an amazing ecosystem that occupies the entire peninsula and extends for about 15 km long.
This wonderful destination is a national treasure, due to its exclusive natural attraction, where its high mountains of fine white sand and warm sun stand out. From the highest peak of the dunes you can see Las Salinas Bay and on the other side, Salinas Beach, an ideal place for windsurfing.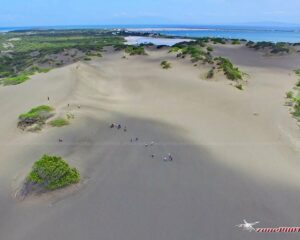 4. Samana
The Samaná peninsula is a paradise full of majestic waterfalls, virgin beaches, mountainous hills and crystalline waters, where you can live experiences such as whale watching, zip line excursions, water sports, horseback riding and more.
On the other hand, the fishermen's village, located in Las Terrenas, is the ideal place to enjoy gastronomy and nightlife.
5. Puerto Plata
One of the most visited destinations by tourists, as it is characterized for being an ecological paradise and a mecca for water sports. Activities such as surfing, diving, windsurfing, kitesurfing, and even golf can be practiced there.
In the heart of Puerto Plata you can walk among the beautiful Victorian houses and buildings of the nineteenth and twentieth centuries, in addition to visiting the fortress of San Felipe, a construction that reflects the architecture of the colonial era.
6. Bahía de las Águilas (Eagles Bay)
Located in the Jaragua National Park is one of the most beautiful places in the Dominican Republic, Bahia de las Aguilas, a paradise of crystal clear turquoise waters with a diamond-white beach and surrounded by an impressive karst landscape.
The beach can be reached by all-terrain vehicle, or by boat from the shores of Cabo Rojo. Likewise, it is recommended to bring sunscreen, as this area lacks shade.
Source: argentina.viajando.travel
Learn More: DESTINATIONS