With the participation of thirty-three international delegates representing thirty countries, the Dominican Republic is ready to host the meeting of Ibero-American Customs Directors, after being elected by the World Customs Organization (WCO).
The council of the WCO Regional Vice-Presidency for the Americas and the Caribbean, which is held annually, will serve to identify common opportunities and challenges, explore best practices and share experiences in the modernization of customs and logistics systems.
The opening of this important event will be attended by the Vice President of the Republic, Raquel Peña, who will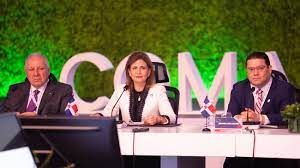 formally kick off the meeting, which will be held from today, May 15 to 19 at the Hard Rock Hotel and Casino Punta Cana.
In addition to the directors of Customs of the Americas, Spain and Portugal, a commission of private businessmen from the customs and logistics world will attend, who will analyze global trends and share experiences.
Representatives of the nations participating in the meeting will discuss customs procedures, maximizing the competitiveness of these bodies, and the modernization of customs and logistics technology systems.
Agenda and topics
The first meeting is the "XLIII Meeting of National Directors for the Multilateral Agreement on Cooperation and Mutual Assistance between the National Customs Directorates of Latin America, Spain and Portugal (COMALEP)", which will be held on May 15 and 16.
On May 17, the "III Joint Customs Forum: Regional Private Sector Group" will be held to explore opportunities for alliances and joint identification of solutions between the private sector and customs.
Finally, from May 18 to 19, the "XXV Regional Conference of Customs Directors General (CRDGA 2023)" will be held.
Discussions will be based on the strategic plan and agenda of the World Customs Organization (WCO), in the area of internal governance of the organization and the priorities of its members for the six regional vice presidencies around the world.
At the conclave, experiences will be shared to streamline customs procedures, maximize the competitiveness of nations and find ways to strengthen security controls at the various customs ports.
Source: Cdn.com.do
Learn more: NEWS