Dominican government signs agreement with Qatar to make air cargo operations more flexible
The governments of the Dominican Republic and the State of Qatar signed a new memorandum of understanding to strengthen their air services relations and enhance commercial opportunities for designated airlines between the two nations, according to José Ernesto Marte Piantini, president of the Civil Aviation Board (JAC) and head of the Dominican delegation to the 41st General Assembly of the Civil Aviation Organization (ICAO).
The document, which takes effect immediately and complements the memorandum signed in December 2012, indicates the common lines of action to make cargo-only air services more flexible for designated airlines of both countries without route or frequency restriction. With this bilateral agreement, both governments also undertook to establish and strengthen negotiations on air commercial matters.
According to data cited in a study note on air cargo in the country, presented by the Dominican delegation during the ICAO General Assembly, during the year 2021 more than two thirds of the Dominican Republic's air cargo was exported with 66.7 million kilograms, while 32 million kilograms were imported. This represents an 18% increase in imports compared to 2020 and a 26% increase in exports.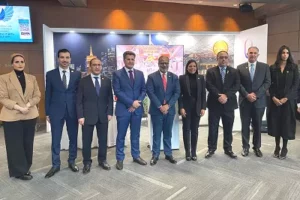 During the months of total confinement, March-June 2020, air cargo became the main source of revenue for most airlines globally, according to a report by the International Air Transport Association. By 2020, the global air cargo industry generated $129 billion, representing approximately one-third of total airline revenues and an increase of 10 to 15 percent, compared to pre-crisis levels.
The Dominican Republic's aviation policy allows airlines to provide cargo-only services on a reciprocal basis, allowing for a deconcentration of the market by granting facilities to national and international air operators.
The agreement was signed by the president of the Civil Aviation Board of the Dominican Republic, Marte Piantini, and Mohamed Faleh Alhajri, acting president of the Civil Aviation Authority for Qatar, who was accompanied by Essa Abdulla Almalki, permanent representative of the State of Qatar to the ICAO; Ibrahim Ali Alhammadi, supervisor of Airline Affairs and Aisha Ali Alnuaimi, legal specialist of this delegation.
Marte Piantini was joined by Julio Peña, representative of the Permanent Mission to ICAO, and alternate representative, Nasim Antonio Yapor; Dr. Paola Plá, secretary of the CAB, and Camila Moya, alternate representative to ICAO.
Learn More: DEVELOPMENT