The Embassy of the Dominican Republic in Austria was the venue for the launching of the training program offered by the National Institute for Technical and Professional Training (Infotep) exclusively for Dominicans in Europe, residing in 42 cities in Spain, France, Italy, Switzerland, Portugal, Austria, Greece, England, the Netherlands, Germany, Belgium, Luxembourg, Norway and Sweden.
The launching was carried out simultaneously with face-to-face events, both in Santo Domingo and in the embassies, where 546 Dominicans who are already enrolled in this program gathered.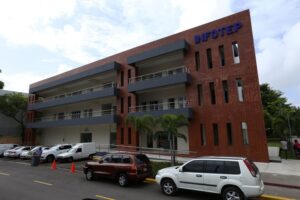 This program promises to "increase the competitiveness and employability of the students", according to Carlos de la Mota, Vice Minister of the Institute for Dominicans Abroad (INDEX).
At the event held in Vienna, Ambassador Laura Faxas, said that "in Austria, there are more than 5 thousand Dominicans, badly counted, which makes us the fourth or fifth largest community of the Dominican diaspora in Europe. A very active community, which fills us with pride". And he took the opportunity to extend the invitation to participate in this technical-professional training program to all Dominicans currently living in the countries of the concurrences: Slovenia, Serbia, Hungary, Czech Republic.
Faxas emphasized that this important initiative should be extended, through an agenda of concrete programs, oriented to the Embassies, with the Ministries of Culture and Tourism, with whom the Ministry of Foreign Affairs (MIREX), has important collaboration agreements.
Faxas said that these courses create opportunities for a better integration of the Dominican diaspora in the countries where they live.
Learn More: DEVELOPMENT