Starting November 2013
Dominican Republic will boost its chances of attracting German tourists to the country starting November, when the airline Condor adds four weekly flights.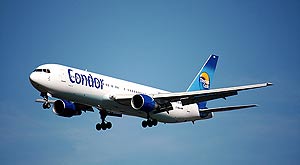 Condor flights will depart from Munich, a move expected to spur the recovery of tourist arrivals from that destination. The carrier's current total of nine flights include two weekly to Puerto Plata, one daily to Punta Cana and four flights a week to Santo Domingo.
In 2013 the Tourism Ministry projects a jump in visitor arrivals as high as 10 percent from Germany, Europe's second major destination according to last year's figures.
Tourism Ministry adviser Magaly Toribio said the country received 181,847 German tourists in 2010, a figure which rose to 183,847 in 2011, but declined to 183,553 in 2012.