The Instituto Nacional de Formación Técnico Profesional (INFOTEP) and the Asociación Dominicana de Administradores de Gestión Humana (ADOARH) signed an agreement in which they commit to join efforts to train and raise the competencies of human talent managers in the Dominican Republic.
The general director of INFOTEP, Rafael Santos Badía, said that managing human capital, the most valuable asset of any organization, whether business, institutional or governmental, is today the most complex and fascinating of the responsibilities of any productive nucleus of goods and services.
"The agreement we are signing today, which is valid for two years, covers the joint execution of a training and education plan, with a focus on innovation, aimed at all members and collaborators of ADOARH," said Santos Badía.
For his part, the president of ADOARH, Emmanuel Blanc, said that the organization is committed to working with INFOTEP to develop research studies, projects and initiatives aimed at raising the professionalism and the level of key competencies of human talent managers.
"We assume the commitment to motivate among our members and affiliated companies, the Dual Training program and to be spokespersons for this modality, understanding that it is the best system of learning and training of talent and the opportunity to lead to secure and adequately remunerated jobs," said Blanc.
The agreement is nationwide and covers the development of the following initiatives: technical assistance and advisory plan, updating of training actions focused on the needs of human capital managers and the design of training programs oriented to new occupations in the productive sectors, in areas of innovation and senior management.
The agreement will also provide for the training and updating of teaching staff and the exchange of methodologies and best practices.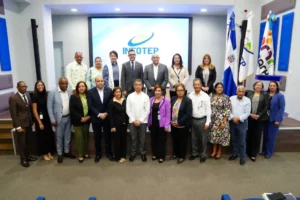 More about the agreement
In a first stage, INFOTEP will develop together with ADOARH dual training programs in human resources, in topics related to: Legal framework of the labor sector, Payroll and Social Security Treasury Management, among others.
As part of the agreement, INFOTEP will update its training curriculum based on the needs of human capital managers.
For its part, ADOARH will provide INFOTEP teachers with practical experiences and updates on new trends and knowledge in the field of human management, among other topics of interest.
It will also promote internships and job placement for participants graduating from INFOTEP's training programs in the identified occupations.
It will promote dual training programs among companies and ADOARH partners in areas of mutual interest.
It should be noted that INFOTEP currently has a diverse training offer of 126 relevant or concurrent programs, aimed at strengthening the soft, technical and social competencies of human management managers.
Learn More: DEVELOPMENT