ProDominicana and Espaillat Chamber of Commerce agree to promote exports and investments in this province
The Export and Investment Center of the Dominican Republic (ProDominicana) and the Chamber of Commerce and Production of Espaillat agreed to exchange knowledge, resources and experiences in order to promote actions for the promotion of exports, the attraction of foreign direct investment, as well as to foster institutional strengthening and legal security.
Mildred Santos, deputy technical director of ProDominicana, said: "We are working on an agenda of strategic alliances that will lead us to build a network of wills and efforts around the productive capacity of the country. The territorial approach to foreign trade policy provides us with new tools to compete".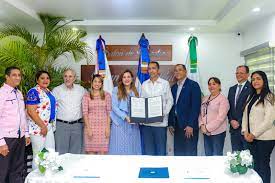 Luis Álvarez, president of the Espaillat Chamber of Commerce and Production, pointed out that: "Our province has a great export potential and there are multiple investment opportunities. For this reason, having a permanent ProDominicana office in this area makes it easier for us to identify and channel new exports and Foreign Direct Investment (FDI).
As part of the agreement, ProDominicana set up a provincial office that will be responsible for stimulating the internationalization of companies in the Espaillat province. At the same time, both entities agreed to share information, data, business opportunities and to provide mutual support in the promotion of the province's commercial attractions.
About the province of Espaillat
Exports of goods by companies located in Espaillat have been on an upward trend over the last five years. Thus, they went from USD 46 million in 2017 to USD 69.9 million in 2021. Of these, Moca was responsible for 97.9% of the exported amount. Forty-five % of Espaillat's exports in 2021 went to Haiti, while 38 % went to the United States and 5 % to Puerto Rico.
Likewise, the Espaillat province had an accumulated investment of USD 67.4 million in 2021, for a growth of 15 % compared to the previous year. As a result of Foreign Direct Investment, the generation of jobs had an increase of 11 %, in the same year, reaching 3,006 direct jobs, according to figures from the National Council of Export Processing Zones.
Espaillat has great potential for investment in agricultural projects. A total of 548.9 km2 of the province's surface area is used for agriculture and livestock.
Learn More: News