Financing for hotel projects and related businesses grew 13.2%.
Dominican banks play a fundamental role in the development of tourism, through the financing of hotel projects and related businesses, with a loan portfolio that exceeded RD$98 billion (US$1,750.6 million) at the close of 2022.
The information comes from the Annual Report on Banking and Tourism of the Superintendency of Banks (SB), which also reveals a year-on-year growth of 13.2% in loans to this industry.
With a weighted average interest rate of 7.1%, it registered the lowest financing costs (the general average was 12.5% per annum).
In terms of risk, it is the third lowest delinquency portfolio in the financial system, with only 0.4% of past-due debt and a coverage ratio of 3.4.
As a result, credit to this line of credit has grown steadily, at an average nominal rate of 9.4% over the last five years.
When loans are segregated by type of currency, it is worth noting that 89% of the tourism portfolio is denominated in US dollars and represents 25% of the total foreign currency portfolio of the financial system.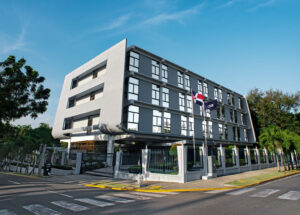 Commercial banks have a 93.7% share of the tourism loan portfolio. In turn, 90.6% of tourism financing is concentrated in the three commercial banks with the largest number of assets.
As of December 2022, tourism received 6% of bank loans and 11.5% of the private commercial portfolio. Likewise, this line registers 19,427 unique debtors and 25,319 loans in the financial system.
The report states that, currently, hotels, bars and restaurants represented about 6.2% of the gross domestic product (GDP) and employs 7.8% of the employed population in the Dominican Republic.
Source: Eldinero.com.do
Learn More: ECONOMY