The governor of the Central Bank evaluated the Dominican economy with a mission of the International Monetary Fund (IMF) headed by Emilio Fernández-Corugedo, the new mission chief.
Héctor Valdez Albizu gave a report on the performance of the economy and its forecasts for 2022 to the IMF representatives who are in the country to carry out a "Staff Visit".
In his presentation, he highlighted the results obtained in areas such as the average inter-annual growth of 5.4% in the January-September period.
The official pointed out that the Central Bank's forecasting system indicates that the real Gross Domestic Product (GDP) growth would be in the range of 5.0 %-5.5 % by 2022, that is, around the potential rate of the economy.
DOWNWARD TREND IN INFLATION
Likewise, it was indicated that inflation was at 8.63 % inter-annual in September, for a reduction of 100 basic points with respect to the maximum of 9.64 % reached in April of this year.
To complement the elements that evidence a downward trend of this index, he expressed that the Bank's projection models forecast that inflation would end this year at around 7.0 %.
He pointed out that it would continue reducing in inter-annual terms in the following months to converge to the target range of 4.0 %± 1.0 % in the first half of 2023.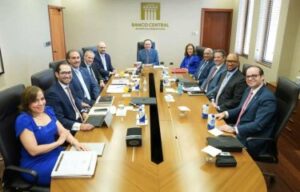 Valdez Albizu highlighted that forecasts for the external sector point to foreign direct investment flows reaching US$3.8 billion by the end of 2022.
He also pointed out that international reserves remain close to US$14 billion as of September 2022, equivalent to 12.3% of GDP and 5.7 months of imports.
REPRESENTATIVE OF THE IMF
On behalf of the IMF, Fernández-Corugedo expressed his congratulations to the Central Bank on the occasion of its 75th anniversary.
He also highlighted the high valuation that the international organization has for the growth achieved during this year and its projections as well as the correct implementation of the monetary policy.
The same, he said, places the Dominican Republic as one of the countries with the best outlook in Latin America.
Valdez Albizu considered essential for these results the legal security, the climate of social peace, confidence and the special treatment that the DR offers to foreign investment.
The IMF representative expressed his total availability to contribute to the best progress for the Dominican Republic.
Learn More: ECONOMY