The dance competition "World of Dance" is coming to Quisqueya through the production company Sapez Media Group, to be held in the first quarter of 2023. The renowned competition is represented by Jennifer Lopez for the NBC network in the United States.
"World of Dance" Dominican Republic is a regional competition where the dancers aim to reach the international competition to be held in Los Angeles in 2023, the "World of Dance" is the number 1 competition worldwide.
The competition will be held at the Events Center of the Plaza Sambil in the city of Santo Domingo, DR in 2023; as for the registration process, will be sending a video of 1 minute duration through a digital platform and fill out the form that you will find in the profile of the instagram account @worldofdancerd and follow the steps.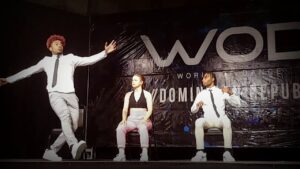 Becoming a brand and style is the inspiration for many young people in the Dominican Republic to earn that title, inspires, empowers and celebrates a movement that unites and elevates the human spirit through the universal language of dance. "World of Dance" has reach in 43 countries, with DR being the only place in the Caribbean to belong to this franchise thanks to TV producer, public relations and events producer, Saul Perez, who has also excelled in the realization of children's shows such as "La Gala del Reino Encantado", "La Gallina Pintadita", was artistic coordinator of Premios Soberano in 2021 and is currently assistant to creative producer Rene Brea.
Massive support is expected so that the young dreamers of the country who come from diverse sectors and that dance is their source of inspiration, support this event made by them and for them.
A group of choreographers and dancers that will make up the production and evaluation team.
Learn More: ENTERTAINMENT