Arajet of the Dominican Republic seeks to become the "Caribbean Hub" with more destinations to Mexico.
The president of Arajet, Miguel Pacheco Méndez, commented that they are looking to strengthen their presence in the airports of Monterrey, Cancun and AIFA, and when the economic outlook improves they will analyze opportunities in other destinations in the country.
Monterrey, NL. The ultra low cost airline Arajet seeks to become the Caribbean Hub with more destinations to and from Mexico. Currently it has flights to Monterrey, Cancun and the Felipe Angeles International Airport (AIFA), said Víctor Miguel Pacheco Méndez, president of the airline originally from the Dominican Republic, to El Economista.
Although he acknowledged that there are macroeconomic challenges affecting the industry, having the most efficient fleet of Boeing 737 Max 8 aircraft allows them to maintain low-cost flights. "We want to strengthen our presence in Monterrey, AIFA and Cancun Airports, when the outlook is better we will analyze more opportunities in other destinations in Mexico."
"We chose AIFA, with four weekly flights, Cancun with three frequencies and Monterrey Tuesday and Friday, we chose them after an exhaustive analysis. With Mexico we are trading partners, and there is Dominican Republic population in Mexico and from Dominican we have great tourist destinations to offer," said Pacheco Méndez.
Pacheco Méndez highlighted that from the Santo Domingo Airport, connections can be made with different destinations, "we are the Hub of the Caribbean, with 54 destinations and we transport more than 7 million passengers".
On Tuesdays and Fridays there will be two frequencies from Monterrey's Mariano Escobedo International Airport: departure from the Dominican Republic at 7:05 a.m. and arrival in Monterrey at 11:05 a.m., and departure from Monterrey at 12:05 p.m. and arrival at Las Américas Airport at 5:40 p.m.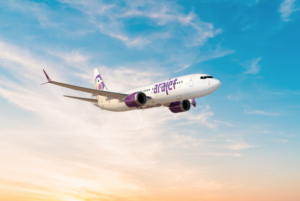 The first flight from this Caribbean country to Monterrey was on September 30.
Monterrey is a very important destination for the airline, since in 45 days prior to the arrival of the first flight from Santo Domingo to Monterrey, 800 seats were sold to go to the Caribbean round trip for only US$301, previously it cost US$1,200.
"This interest of the tourist from Monterrey to go to Santo Domingo, is due to the fact that from there they can reach other beach destinations such as Punta Cana, Playas de Salinas, know the emerald waters of San Cristobal, the Dunes of Baní, and the colonial city of Santo Domingo, which has 85,000 rooms and no visa is needed to travel," said Victor Miguel Pacheco Mendez.
Updating its fleet
He pointed out that they recently purchased five 185-seat Boeing 737 Max 8 aircraft and expect to complete a fleet of 40 aircraft, with a direct acquisition of US$3 billion.
The investment firms involved are: Bain Capital, an asset manager and Griffin Capital, an investment fund, among others, "it is the largest fund in Massachusetts".
Learn More: FLIGHTS