The Dominican Republic will host the 36th World Congress of Internal Medicine, becoming the world capital of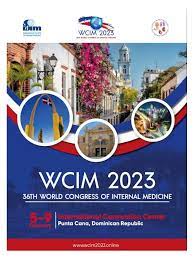 internal medicine from February 5-9, 2023.
The event will take place at the facilities of the International Convention Center Punta Cana and its Hard Rock Punta hotel and will feature presentations by more than 100 leading experts from some 30 countries.
It is aimed at general practitioners, internists, family physicians, cardiologists, infectious disease specialists, endocrinologists, intensivists, gastroenterologists, geriatricians, neurologists, hematologists, pulmonologists, neurologists, rheumatologists, immunologists and psychiatrists.
It will have a broad scientific program that will include symposiums on innovation in medical education, care for the elderly, patient safety, perioperative medicine and geriatrics in the 21st century.
Current topics of interest include augmented reality, 7D technology, genetics, genomics, cardio metabolic diseases, obesity and overweight, renal diseases, and the 10 most common diseases in Latin America according to the Pan American Health Organization (PAHO), among others, for more details click here.
The activity represents an icon in medicine for being the first time it is held in the Dominican Republic, Central America and the Caribbean, being the last time it was held for the Spanish-speaking in Chile in 2012, with the organization of the International Society of Internal Medicine (ISIM) and as host society the Society of Internal Medicine of the Dominican Republic (SMIRD) will participate more than 30 specialized societies.
The same has the organization and logistics of the renowned professional congress company Turenlaces del Caribe. For further information please contact [email protected]. or 809-565-3500.
Source:Diariosalud.do
Learn more: HEALTH