Starting this Wednesday, the Dominican Republic will host the III Jornadas STIC, Servicio de Tecnologías de la Información y las Comunicaciones, an international reference meeting on cybersecurity in Ibero-America, which will bring together in the same space more than 70 experts from 14 countries, who will offer the keys to create a "unique cybersquad for Ibero-America".
The meeting is organized by the National Cryptologic Center (CCN), the National Institute of Cybersecurity of Spain (Incibe), the Joint Cyberspace Command (MCCE) of Spain; and the National Department of Investigations (DNI) of the Dominican Republic. The country will be represented by Juan Gabriel Gautreaux, director of the National Cybersecurity Center (CNCS); Omar de los Santos, director of Coordination of Cybersecurity Strategies; Carlos Leonardo, director of the Cyber Incident Response Team (CSIRT-RD); as well as representatives of the institutions that form part of the National Cybersecurity Council.
Rafael García, commander of the Spanish Joint Cyberspace Command; Luis Jiménez, deputy director general of the National Cryptologic Center; and Victoria Valbuena, head of Internationalization at Incibe, will take part in the opening of the conference.
During the day, conferences will focus on the exchange of technical information and cooperation in cybersecurity, as well as the national vision to improve detection and response capabilities, with the deployment of Government Cybersecurity Operations Centers.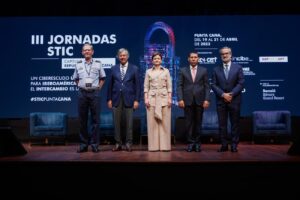 On Friday, April 21, the Institutional module will be held, organized by the National Department of Investigations (DNI), the National Cybersecurity Center (CNCS) of the Ministry of the Presidency, the Attorney General's Office, the Government Office of Information and Communication Technologies (Ogtic), the Technological Institute of the Americas (ITLA), the Central Bank of the Dominican Republic and the Ministry of Defense.
The III STIC Conference, Dominican Republic Chapter, will serve as the setting for the Ibero-American Cyber Defense Forum, made up of Argentina, Brazil, Chile, Colombia, Ecuador, Mexico, Guatemala, Paraguay, Peru, Portugal, Uruguay and Spain, with the aim of promoting mutual support in the training of personnel, encouraging participation in conferences and exercises, establishing support procedures for research, development and innovation, as well as sharing information on cyber threats.
The meeting will be held at the Barceló Bávaro Grand Resort Convention Center in Punta Cana, in the eastern region of the country.
Source: Robertocavada.com
Learn More: HIGHLIGHTS