January not only welcomes us to a new year, but also gives us the opportunity to visit or revisit places that are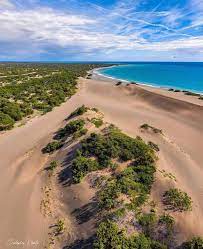 characterized by a warmer temperature than the rest of the year, or attractions that can only be enjoyed this winter month.
So, if you are planning or thinking of taking a family trip, with friends or alone, these are the four destinations we recommend for January:
Samana
When humpback whales show up for a glimpse
Every year, more than 1,500 humpback whales travel from the North Atlantic Ocean to the Bay of Samaná to reproduce and breed in warm waters. And although their journey begins in November and they stay until the end of March, it is in mid-January that they begin to be seen in a natural spectacle of acrobatics.
There are tours in the province of Samaná that take you to live this experience up close, which must be seen at least once in a lifetime.
Constanza
The air is on" in Valle Nuevo
If you want a few days of cold weather in January, it is not necessary to leave the island. You can visit the Valle Nuevo National Park in Constanza, La Vega province. It will be an experience in all senses: you will climb to 2,200 meters above sea level, you will know its famous Pyramids surrounded by its characteristic fauna and flora, and you will feel a pleasant temperature between 22C -14C.
So don't forget to bring a good coat, because as we Dominicans say in allusion to the low temperature, "the air is on". If you are adventurous, you can camp in the Pyramids, hike, or bike routes; or if you prefer, you can sleep in Constanza. It is important that you get information about the most suitable type of car to go to Valle Nuevo.
Peravia
The Dunes feel fresh
The Natural Monument of Las Calderas Dunes, better known as the Dunes of Baní, located in the province of Peravia, is a sand bank that extends 15 kilometers in front of the Caribbean Sea. Its peculiar beauty and desert nature make it unique in the island.
However, the temperature in summer can make the experience a hugging one, so we recommend that you take advantage of January to visit or revisit it, as you will enjoy a cooler temperature (between 28 and 21 degrees), so you can walk and sandboard. Don't forget to bring a reusable thermos of water so you don't leave trash behind.
SaJoMa
In view of the Cordillera Central and surrounded by parks.
Little is said about San José de las Matas (SaJoMa), a municipality of Santiago and tourist attraction, which should be on the list of ecotourism lovers. At a pleasant temperature (between 27C and 17C), now in January, you can visit its famous church in the town center; the Aguas Calientes Ecotourism Park located in Los Montones, to bathe in its hot springs and the Armando Bermudez National Park, from where one of the most popular routes to Pico Duarte is made.
This park, together with the José del Carmen Ramírez National Park, covers the extension of the majestic Central Mountain Range of the country, which you will be able to appreciate from one of SaJoMa's viewpoints.
Now it only remains to inform you well about the details of stay, transportation, climate and other details in case you go on tour or on your own way to each destination. Spread the word, now in January.
Source:Elnuevodiario.com.do
Learn more: TOURISM